Continuing a tradition instituted last year, we've compiled the 10 most read blog articles of 2012. Thank you all for your support, comments, ideas and corrections and we look forward to a furthering of our collective knowledge about digital signage, at the intersection of marketing and technology.
These 2012 posts were selected according to the number of views they received between January 2012 and December 2012. Here they are, we hope you'll enjoy them:
1. Tesco's digital signage fail
This article briefly presents the 3 main reasons Tesco's digital signage project failed almost 7 years ago and offers a few tips on how to avoid making the same errors. It seems that real-life examples always strike the right note and this piece was a big hit. Read more…
2. Sunny and scented-outdoor-ads
Besides launching the NFC campaign in Reading, UK earlier last year,  JCDecaux managed to make bus shelters more attractive by warming them up. See the ''Press and Sniff'' gimmick in action (very helpful during cold winter days) and the display (of a Brazilian media owner) that shows a sunscreen ad only when the sun shines. Read more…
3. New major version of digitalsignage.NET spiced up with HTML5 flavour
digitalsignage.NET undergone some major changes in 2012, the addition of HTML5 support being a very important one.  Its importance was further proven by the high number of hits the news got since June, when it was published (expect another major one announcement soon).  Read more about the latest version of digitalsignage.NET…
4. How cross- channel commerce will affect brands in 2012
Cross- channel commerce was one of the buzzwords of 2012, at least in retail. French agency, Brio Retail shared their previsions for the year in terms of merchandising and use of in-store technology. They also advised brands what they should do in their stores to create unique customer experiences and harmonised communications across all their channels. Read more…
5. Using digital signage to target non- wired employees
This article presents the benefits of using digital information displays in areas where employees don't have access to email or telephone. Staff in production facilities, sales persons, information- avoiders and time- starved employees make up the four types that are hard to reach via standard corporate communications means. The article continues by presenting the types of messages that one can show on the screens. Read more…
6. New shiny screen and digitalsignage.NET in action
This article features a relatively new video showcasing the HTML5 widgets in digitalsignage.NET, those elements that allow users to keep screens fresh without creating content themselves. The result was quite beautiful we say. See it here.
7. Digital signage mistakes- what to avoid when managing your network of screens
Mistakes have been a recurring theme in the last 12 months and people seem to appreciate articles denouncing them. No wonder, prevention is better than cure, especially when it costs. So if you haven't read them yet, make sure you get yourself familiarized with these 9 mistakes one can make when managing a digital signage solution. Read more…
8. Digital signage- between the SD card and the professional software
It all started around the beginning of 2012 when a company already having a digital signage network in place approached us expressing their desire to quit using USB sticks to update their screens and start employing digitalsignage.NET. The advantages of using digital signage software instead of USB sticks were obvious to us but we realised that they might not be so for those outside the industry. So we've highlighted 5 of them here.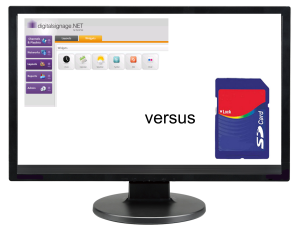 9. Digital signage in train stations- entertaining and eye- catching, new study shows
Good news for the French DOOH market, as revealed by a study conducted by Media Transport Pôles Gares, Illigo and the Conseil Supérieur de l'Audiovisuel (the French broadcasting regulator).  Screens in train stations were said to 'liven up' the place, according to 77% of the respondents and the video ads they show were seen as entertaining by 83% of the interviewed population. Discover more juicy stats from the 2012 study here.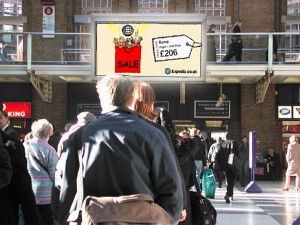 10. Danish pop- up store uses tablets to sell chocolate for… good deeds
This isn't exactly digital signage but  it's an interesting example of ingenious cross- channel marketing at the Point of Sale. Watch the video to see how sales persons collected likes and pledges on Facebook of clients who promised to pay for chocolate with "good deeds".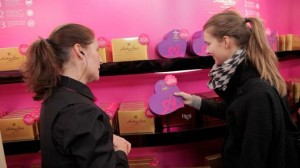 Discover our most popular articles for 2011 or download our white papers to learn more about digital signage in different environments.
Curios about digitalsignage.NET? See how it works, for FREE!