We are proud to announce our new fully managed service, targeted at Local Pharmacies across the United Kingdom. We call this Healthy Living TV

Healthy Living TV provides Pharmacies with crucial and key Public Heath messaging for digital signage displays ensuring that customers are aware and updated on the latest health information campaigns. Promoting NHS England and NHS improvement (NHSE&I) campaigns we deliver up to date campaign information digitally supplied for viewing by your customers and patients.
Check out our Healthy Living TV Preview video here
Our fully managed service provides Pharmacies with a vast library of Public Health Campaign information that can be displayed on our supplied digital displays or to Pharmacies with an existing display installation.
All Healthy Living campaigns will be managed on your behalf and your displays will automatically display media appropriate to the campaigns for that month. Our calendar of monthly events will allow your Pharmacy TV to always be relevant and compliant.
Our simple three-step process
Our team of professionals will discuss your requirements with you on which Health campaigns and in-store services you wish to offer.
You choose the types of digital displays based on your requirements and these are installed
Your digital content is collated and delivered to your displays, updated, and refreshed every month.
Healthy Living TV can be provided to Pharmacies with existing displays or to customers who require a new solution. Our team will discuss your requirements with you and provide a solution that works best for you.
Pharmacies already benefiting from Healthy Living TV
Northfield Pharmacy"After going through different companies in the past for this kind of marketing I can honestly say the quality at Review Systems is by far the best and is very competitively priced compared to other pharmacy advertisers. "
Barkerhouse Pharmacy"An extremely professional company who deliver every time. Our screens are a valuable asset to our pharmacy being able to provide our customers with the information they need."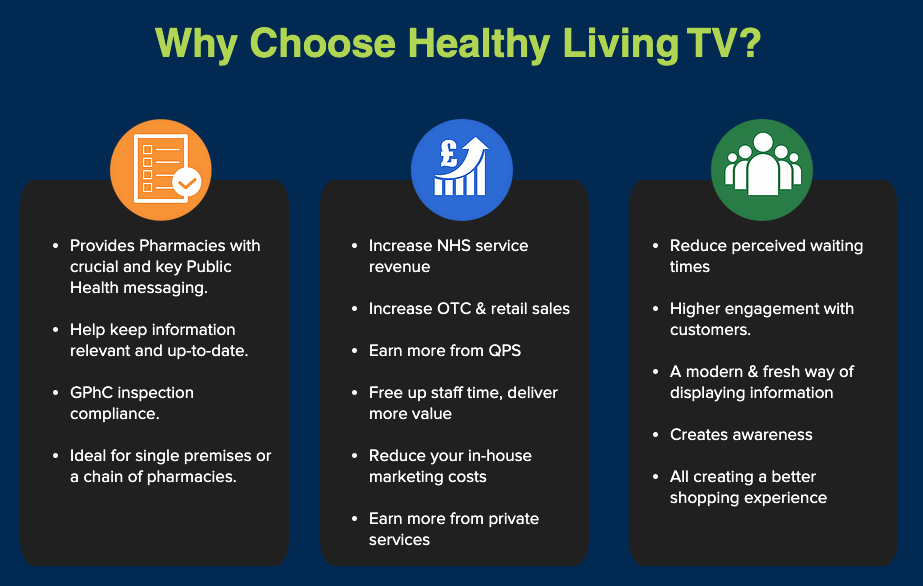 Healthy Living TV Pharmacies are at the forefront of delivering patient information. They provide a vital service to their communities ensuring they play a major part in the nation's health and wellbeing.
Chain stores
For Pharmacies that have more than one store, and require our Pharmacy TV for each store, we provide a Digital Healthcare Network option, allowing multiple locations to be maintained and controlled from one central account. Information campaigns can be specially constructed for each individual location based on the services each location offers. One point of control for all your stores
Packages start from £30.00 per month + VAT
Click here find out more