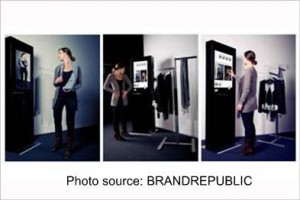 We've recently wrote a post about in-store augmented reality and how would it be to get instant feedback from remote friends when trying clothes on. Well, now it's all happening at Westfield London. The shopping center introduced a mirror allowing shoppers to instantly share photos of outfits with their Twitter and Facebook friends and followers and ask for advice. Customers can also email their pics to acquaintances and if not buying the item, they'll get an automatic email with a link to the brand's e- shop. On one side, I'm sure brands will love the new gimmick (more brand exposure and WOM for them…without even worrying about interactive content-creation). On the other side, shoppers themselves will enjoy the game of photo-shooting in different outfits (whether they can afford them or not it's another issue) and different poses which is what Nedap envisaged would happen.
Nedap is the retail service developer to take credit for that. Yet their concept is not unique. Multitouch– a Finnish manufacturer of (as their name says) multi-touch displays- already launched a Twitter touch-wall back in December.
Arguably the mobile phone usage rate in tweet-mirrors equipped stores and venues will drop as larger screens are now available. Agree?
P.S. You might also be interested in reading Screens instead of bathroom mirrors.
http://www.youtube.com/watch?v=srdFNKNo5xE