As promised during the CeBit 2011 Samsung started producing its magic ambient light- powered transparent, LCD touch screen (who would have imagined all these screen capabilities ten years ago?) offering a a 22-inch, 1680 x 1050 resolution panel with a 500:1 contrast ratio, according to Engadget.com's reports. Rumors say the screens will be USB- compatible and in HDMI (perfect for a digital signage project; allowing you to connect your digital audio/visual source- like a DVD- to your monitor).
For the moment, it seems the see-thru screen is mainly aimed at the advertising sector (double hint digital signage;), which implies they're going to be quite expensive…Given the fact that the new device will be offering something new in terms of customer- screen experience (new DOOH gems on the way!) we expect demand to be high, despite the spicy prices.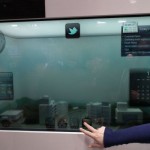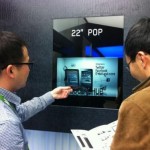 source: Engadget.com
Here's a funny quote from Engadget.com: "It won't work in the dark… Oh wait, I can use a flash light to act as artificial back-lite light source." (Lim Jia Nian)
Stay tuned, Samsung's transparent OLED laptop coming soon.