ScreenMediaExpo is over and we are now back from London where people from further away than us came to showcase their products and/or present their views on the DOOH's market trends. With all the innovations we've read about just few meters away from each other, it was clear that the event was the perfect occassion to familiarize yourself with what and who is new in the industry.
The first gadget we've came across was Ayuda's  "pay-per-look" application using their OpenSplash media player (a free open source media player designed to be driven by any SaaS-based CMS) and Intel's Anonymous Video Analytics software. The new media player is compatible with both Google's Android and Apple's iOS operating systems (as announced by Ayuda on the first day of the Expo).
As the Digital Signage Round Table panelists concluded a transparent reporting system is what would make the media buy.  OpenSplash on its side will not only encourage innovation and uniformisation within the industry but it also represents a more  intelligent player that's able to create playlists on the go (Dynamax is part of the project with Howard, our Director, being part of the OpenSplash Commitee).
Many thanks to Daniel Fleischer (Ayuda Media Systems) for the photo!
Intel's Virtual Footwear Wall for Adidas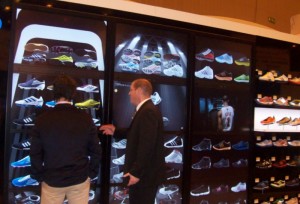 Football fanatics have the chance to experiment Adidas' footwear on large 3 D screens that allows them to zoom in and spin any chosen pair of shoes. This was called a "futuristic mash- up of e-commerce  and the mall", coming to prove the "rich communication possibilities of the digital world" (Intel).
3D without glasses from Galaxia Electronics (Korean display producer) and iPont– a  Hungarian 3D digital signage company who has recently opened an office in the UK.
Samsung's transparent LCD presented by Display Technology Limited, a Rochester – based company.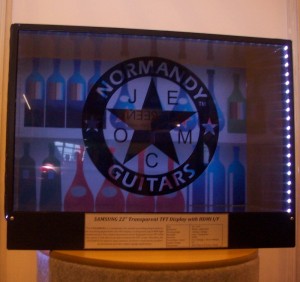 The Digiadvans and the digiwalkers (or the Cyklops)
Thank you Scott Anthony for chatting with us and explaining  how the digiadvans and the digiwalkers complement each other. Great idea as the vans display not only pre-recorded images but also real-time filming (The digiadvans have successfully entered the Danish Digital Out of Home market with their campaign for Pepsi Max in Copenhagen).
There were many, many other interesting things to see at the Expo but due to lack of space we shall limit ourselves to these (it was great listening to David Weinfield from ScreenReach and StephenRandall from Locamoda who presented their thoughts on the social media- digital signage integration). Stephen Randall overthrown some of the "taken-for-granted" conceptions within the industry by stating that QR codes and Augmented Reality are of no use- if dwell time is insufficient.
The main discussions and speeches (and there were great and many) focused on three main areas:
-standardisation ;
-improving the current audience metrics (very important for the industry's growth which depends on the proof of results);
-the passing from an ease-of-use to an ease of joy (as technology, nomatter how easy, becomes useless if people don't enjoy using it. Arguably that's where social media steps in).
Both Christian Vaglio from Neo Media Advertising and Jose Alvado from Intel stressed the relevance of digital signage in retail spaces of all dimensions. Convenience stores were spotted as an ideal environment to deliver a message as, due to their dimension, it's impossible for people to "miss the screen" (Christian Vaglio).
On a final note, Dirk Hülsermann, President of OVAB Europe, stated that collaboration between the various digital signage market players for delivering a turn- key solution is the future of the industry.
With all this in mind we bid you all a good day & weekend!