Do you run a business that sells to the trade and the public and have a Trade Counter?
Millions of stores do and you may be missing an opportunity to influence your customer and increase sales by promoting offers and deals that your customers may not have been aware of. Counter-top Point of Sale screens may just help.
Customers standing at the Trade Counters may wait a few minutes to receive their orders, so while they wait, inform them of your best deals or daily offers.
Digital signage is powerful and with your customer standing in a prime location you can inform and educate them about your business. You may even be able to persuade them to make an additional purchase.
Counter-top point of sale digital signage can be use for a many things including: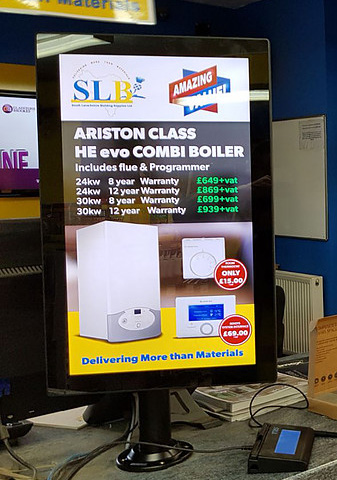 Daily offers
Customer loyalty schemes
How to and product videos
Local news and weather and travel
Encourage social media participation
Competitions
Online order and collect in-store information
Brand promotions
Staff achievements
Paid advertising
Use counter-top digital signage in collaboration with other prominent digital signage that you have located across the store, to ensure that you customers know as much about your business and services as possible.
Our reseller Review Systems, Digital Signage Limited are experts in digital signage and paid advertising networks. They have completed installations in retail, garden centres, Pharmacies and many more locations.
Here is a recent install of counter-top digital signage at builder's merchants.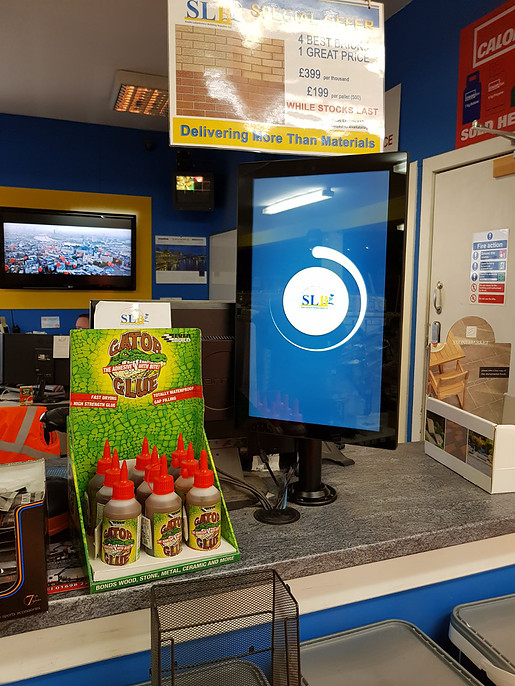 If you want to find out more or want your own digital signage solution, please get in touch
About us
Dynamax is passionate about 'digital signage software' and have spent nearly two decades developing enterprise solutions which power a wide range of digital signage networks – from Out-Of-Home, Retail, Healthcare, Transport,Corporate Communications and Education.
Review Systems Ltd shares our passion for all things digital signage, and has completed a large number of installations in Pharmacies, Garden centres, building merchants and shopping centres.