Digital Signage Solutions
by Dynamax
Back to top ↑
What is digitalsignage.Net
What is it?
digitalsignage.NET is a communications solution that can be used in any location that is visited by people.
Create a digital signage solution that bring your establishment a solid ROI by informing, entertaining or increasing sales.
Cloud based, hosted on Amazon Servers, digitalsignage.NET can provide a focal point for all your messages. Our web based browser and easy to use drag and drop interface, provide a simplistic, yet feature rich user experience, that requires little to no training to master it.
Why use digitalsignage.Net ↓
What is digitalsignage.Net ↑
Why use digitalsignage.Net?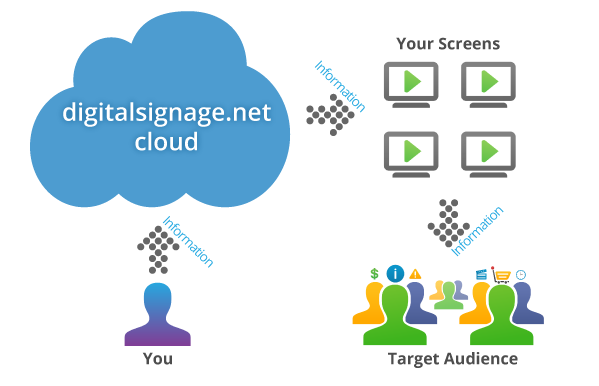 Why use it?
Affordable digital signage
Simple to use with powerful features
Wide range of media formats supported
Scalable to grow with you
Flexible screen layout designer
Excellent customer support
Reliable with 99.99% uptime
Secure HTTPS encryption
Who uses digitalsignage.Net ↓