Digital Signage Content Management Solutions (CMS)
What is digitalsignage.Net?
A cloud based digital signage CMS system that allow users to deliver vibrant media and realtime information.
From a single screen to large volume networks, all can be controlled from one central location.
A low cost hosted solution that grows as you grow. Full solution or software only,
digitalsignage.NET is for you.
Who uses digitalsignage.Net?
digitalsignage.NET is designed to be flexible for use in multiple Sectors.
Education, Corporate, Retail, Transport, Healthcare, Hospitality and Entertainment venues all benefit from a digitalsignage.NET solution.
A message board in a school, to a large department store in a shopping mall, digitalsignage.NET has you covered.
Let me see
Why choose digitalsignage.NET?
Simple to use - add, schedule and publish your message on your screens within minutes.
Amazon Hosted Web Services - provide security, auto scaling and high reliability.
Cost Effective -Spread the cost monthly or annually and receive free updates and free email support.

Find out why
Back to top ↑
What is digitalsignage.Net
What is it?
digitalsignage.NET is a Content Management System (CMS) that can be used to deliver eye catching media to multiple venues.
Create a digital signage solution that brings your establishment a solid ROI by informing, entertaining or increasing sales.
Cloud based, hosted on Amazon Servers, digitalsignage.NET can provide a focal point for all your messages. Our web based browser and easy to use drag and drop interface, provide a simplistic, yet feature rich user experience, that requires little to no training.
Why use digitalsignage.Net ↓
What is digitalsignage.Net ↑
Why use digitalsignage.Net?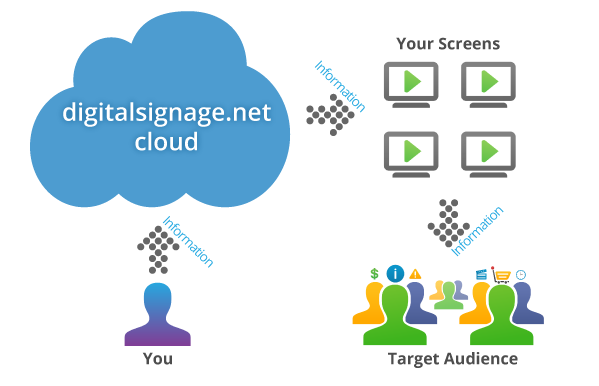 Why use it?
Affordable digital signage CMS
Simple to use with powerful features
Wide range of media formats supported
Scalable to grow with you
Flexible screen layout designer
Excellent customer support
Reliable with 99.99% uptime
Secure HTTPS encryption
Who uses digitalsignage.Net ↓