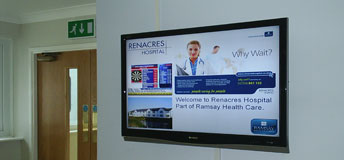 Digital signage in Doctors waiting rooms allow you to send targeted messages from a central point, be it a reception desk or a communications department.
Many Doctors surgeries and clinics will benefit from digital signs as they are a versatile and cost effective tool in your healthcare marketing toolbox. Not only that, they provide an efficient way of delivering messages to patients and staff.
One of the main reasons healthcare establishments would want to make use of digital screens is to deliver important messages, such as; Key health advice and season warnings, staff messages, and adverts of relevant products. However, the messages may be either aimed at customers or staff, or both, meaning that location is key. The content you display will be different for each, but the length of content should be considered, too.
Advantages of digital signage include:
Information can be shown in real time from online sources
Can be updated at any time with no extra cost or printing required
Support videos
Messages can be posted at certain dates and times using an automation tool
Create Interaction using the inbuilt touchscreen capability of the software.
Staff and patients will never watch long videos shown on digital signage in corridors. Short and straight to the point messages are best to show in areas that people don't tend to spend as much time in,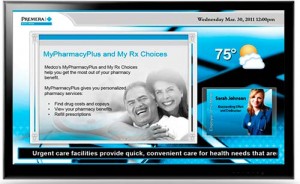 On the other hand, a place such as a waiting room would be more suitable for longer communications such as videos.  As we are all aware, waiting around can be quite frustrating, so delivering interesting and entertaining content is a great way to keep your patients happy.
Benefits of using digital signage for healthcare include:
More informed patients
Reduced workload for staff
Fewer complaints
Lower print and other communications costs
Here at Dynamax we can provide you with a digital signage solution (digitalsignage.NET) tailored to your needs, that will enhance your patients experience and also improve your communications for staff. Communication is key to a smooth running of day-to-day activities and routine procedures.
If you would like to experiment with our digital signage software for free, with no obligations click here to request a consultation. Or download our 'Digital signage for Healthcare' white paper for extra information, for free.

About Us
Dynamax are one of the longest standing digital signage companies worldwide. We provide enterprise and entry-level digital signage software solutions to organisations small and large, from large media owners to colleges and charities.