The cost of digital signage –both hardware and software-related- has been brought down dramatically over the past few years by the economic crisis and the commoditisation of components (media player, display and digital signage software). This implied that a medium once reserved to large network owners and major corporations is now available to small and medium businesses.
But whilst their larger counterparties had the knowledge of administering their digital signage system either in-house or outsourced, SMB's might not be as prepared to make the best of their investment.
So here are a few tips adapted from an article published by Streetfight in July 2012 on how to use location- based marketing to drive business. Here they are, we hope you'll find them useful:
1)      Know where your audience is. Part and parcel of one of the most important marketing principles (know your audience/customer) is figuring out where best to reach it. So answer these questions:
–          Where is your target audience (customers, visitors, employees) to be found when in your locations? Map out the ''hot spots'' and create a communication epicenter there. Install a screen and display messages relevant to that location and to the state of mind of people present there.
–          Where are they most likely to be found, when not at home and not in your locations? If that place already has a digital signage system installed see if you can buy some space and display your advert there. Some organisations are willing to ''open up their system'' to third parties and generate cash that way. One of our latest users, Broadway Cinema does so.
2)      Don't use one platform only. Okay, so you might already have a poster or a flyer in these ''key locations''. Well done, but one channel cannot substitute all. Use mobile advertising to drive people in, digital signage showing messages on topical matters, posters with general, forever- valid information, flyers on counters to allow people to take the information with them and/or QR codes on screens and posters to redirect them to your website.  Don't use platforms in silo but combine several to enhance their effect.
3)      Put your audience in control. Give people the chance to choose to watch your digital information display or advertising screen, receive your text messages, interact with your digital or printed sign. Refrain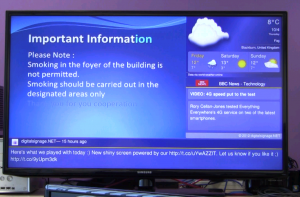 yourself from using screens that are ''too big'' and ''too loud'' for their location or from using too many displays in one place (learn from Tesco). People will switch off even if this implies not frequenting a particular place anymore (there are other stores, restaurants or chill-out areas out there and yours won't be the chosen one).
4)      Tell people why they should care. Just because you have a digital signage solution in place doesn't mean that people have to pay attention to it too. And don't rely solely on the beauty of the visuals either. Your message has to resonate with people's interests when in a certain location. Mothers buying baby- care products would want to know about discounts on such products, guests about amenities etc. Give people a reason to care and don't avoid using fun, informational content (like sports news for example) to catch their attention. From an investment perspective, nothing is worse than a screen that nobody watches or having an install that never fulfilled its purpose.
5)      Adjust when necessary. Very few small businesses get everything about digital signage right from stage 1 (to avoid common pitfalls, go through this check-list and this list of potential mistakes).  Set time aside to track the results of your system and start with simple things like asking staff and visitors what they think about the screens, their content and their impact.  Assign the management of the system to minimum two employees (our digital signage software allows you to add users to your account and give them different admin rights) to ensure that your system is not forgotten about, internally.
If you need more advice on digital signage feel free to download our white paper  or drop us a line for a free consultation.
Get started with digital signage by signing up to digitalsignage.NET for free (browse this website to learn more about it).