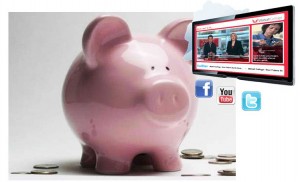 We believe digital signage is a more cost- effective tool for disseminating information than flyers and printed posters, and a much greener one too.  It can inform, greet, entertain and up-sell and cross- sell all at the same time and it can give your communications a note of immediacy and relevance.
Here are a few facts that back up our statement:
1)    Digital signage allows you to update your messages and publish them on screens from various locations simultaneously, with a few clicks of your mouse and at no extra- cost. Besides that, your communications are always timely and relevant as you can refresh your screens a few times a day or week, either by publishing new content or by streaming live data such as news or Twitter feeds.
2)    When printed materials are used, each new message requires a new print run. This translates into a new set of expenses for artwork design, print, shipping, and for replacing the old marketing materials (i.e. posters). Neither a cost- effective nor a quick process and arguably, not a very effective one either. If you're mailing flyers or other prints know that 44% of direct mail is never opened and it causes 100 million trees to be cut each year (EPA.GOV, NOVEMBER 2010 cited by HubSpot).
3)    Digital signage makes the work of updating  messages far quicker and easier. You might be using something as simple as a Microsoft Publisher template to create content for your screens or you might ask a content creation agency to create content for you. In both cases, there are less work and hence less costs (or none) involved.
4)    LCD screens are energy efficient. You may argue that paper posters don't consume anything once they're printed and put up on your wall. Screens, on the other hand, consume energy. Yet, if you consider the fact that they can be used for several years (up to 10) and that they're getting greener and less expensive by the year, you will soon realize that the screens are actually a good investment. Many of today's available screens are ENERGY STAR® certified and compromise nothing in terms of image quality.
What does this mean for your sector? Whether you're a non- profit organization or a business, digital signage isn't meant to just inform your audience but to also help you reduce the costs of your communications on the long- term. Here's how:
Education
Digitise your notice boards and:
–          Update and refresh your communications across your campus or building, simultaneously, with just a few mouse clicks. Do it whenever you wish, at no extra- cost and wait but a few seconds for your communications to reach your target audience (staff, students, visitors, parents etc.);
–          Help your students and staff access the most important information on the go, with a minimum effort from their side;
–          Deliver information according to the time of the day and/or day of the week on selected screens from selected locations (cafeteria, hallways, reception areas etc.);
–          Sell advertising space to businesses whose products or services would appeal to your students and generate extra- revenue for your establishment.
Want to learn more? Download our white paper- Digital Signage for Education.
Retail
–          Do you want to advertise a promotion in your stores next week? Nothing easier. Once content is created, just select the screens on which you want it displayed, schedule and publish it. Then rest assured, your promotions, ads and other communications will be shown at the right time, on the right screens.
–          Compare this with paying for new posters, waiting for those to be printed and then having staff replace them in your stores. The difference in terms of costs, labour and efficiency is obvious.
Get more information, case studies and examples by reading our white paper- Digital Signage for Retail
Restaurants
Digital menu boards can complement or even replace standard menus completely by:
–          Supporting a multitude of information- from nutritional, to photos of happy clients and adverts of partners and suppliers (see the cash potential in this?). All from the same platform, using the same hardware, without having to replace a thing (at least for several years);
–          Presenting food in a visual, eye-catching manner;
–          Allowing you to display new prices and menus in almost real-time;
–          Displaying social media feeds. No menu or printed poster in the world can have Twitter feeds intermix with menu-related information. But a digital menu board can.
Want more arguments and examples? Download Digital Signage for Hospitality.
Corporate Communications
Digital posters can:
–          Support real-time information pulled directly from a web page (such as key performance indicators, as Merseyrail) which means that your staff doesn't have to spend time updating or disseminating this data;
–          Support corporate communications created by your Internal Comms team. One single screen can thus meet a variety of purposes and deliver a wide range of fresh, accurate information. No extra costs and no delays.
Learn more. Download our white paper Digital Signage for Corporate Communications
Ready to experiment with the technology?
We are responsible for delivering the news and information of numerous organisations around the world. Set up a digitalsignage.NET account now and experiment with the technology. No obligations, no credit card required. All you need is a Web Browser.