In the past year we've addressed different topics from the digital signage realm- from news, to commentary, tips and resources which sparked various levels of interest among our readers. Some of the most popular ones were related to important industry events (no wonder), others to industry reports or to brands "DOOH" ing advertising in an innovative manner. So here are one of the most read ones:
How Tesco works in South Korea. Virtual shopping, real results.
It's obvious that Tesco's subway- based  virtual store in Seoul sparked attention. Not a really digital signage project yet one that it's making a strong case  for location- based media or in other words delivering information when people need it. The virtual store brought Tesco a 135% sales increase in just 2 months and a media award at Cannes Lions (plus a huge amount of free publicity). As you can see in the photo below, consumers buy food items displayed on posters by scanning QR codes.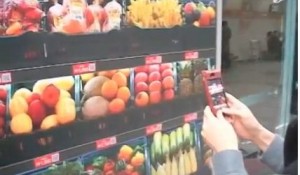 Japanese firm develops Android-based multi-touch digital signage display
Due to high-demand for touch- screen devices from its customers, Japanese company, SKR Technology produced a 32" Android- based screen, similar to a smartphone in terms of resolution and fluidity of movement. Our articles acknowldged the new digital signage display, including a video demonstration of the display and more technical details provided by DigInfo TV and InAVate.  The article also continues by touching on the subject of Android-based digital signage.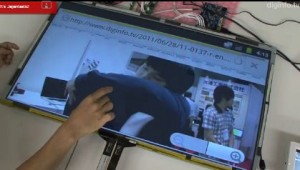 The digital signage industry as seen at ScreenMediaExpo 2011
Written shortly after our return from the event, the post consists of fresh impressions on the overall event, things we've seen and liked (Intel's Virtual Footwear Wall, Ayuda Media's pay per look application, transparent LCDs), interesting discussions and speeches (Jose Alvado's (Intel) and Christian Vaglio's (Neo Advertising) among other), things we've learned from attended seminars and roundtables (such as the Digital Signage Round Table organised by DailyDOOH), people we met (Daniel- Ayuda Media Systems, Scott Anthony- Digiadvans and Denis Gaumondie- Ooh tv) and of course photos.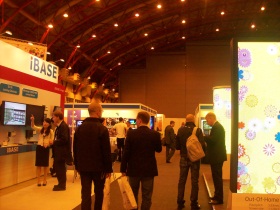 Latest Technologies Trends for SMBs
Based on J. Gold's Associates report, the article mentioned three technology trends two of which proved themself correct during the year- social media's growing importance for corporate communication and the PC's gradual replacement by laptops.  Citing SMB Web we concluded that smart expenditure in the right technology leads to major improvements in a company's efficiency, recommending digital signage as one of these "right technology" tools (see reductions in printing costs and manpower).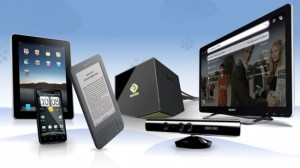 Scarry stuff. Ads that smile back at you.
There was a lot of writing and talking going on (especially at the begining-end of the year) of whether the future will turn into a Minority Report scene. Pondering  on this statement, we noted the emotion recognition software and the research undertook by a Japanese company (no wonder) on this topic. For more on Gladvertising or ads that respond to your mood read the article.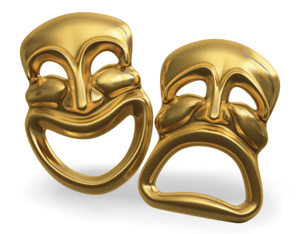 When pharmacies use digital signage
The post presents the uses and benefits deriving from this use of digital screens in this environment. It presents the case of a global pharmaceutical company using our software for corporate communication and that of a newly set up pharmacy that uses it for visitor and customer messaging. The installation was done by our valued partner- AuDeo.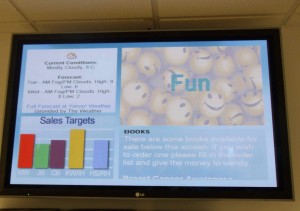 Highlights of Kinetic's 2011 Digital Out of Home Handbook (UK focus)
Our article summarised the information we deemed most interesting from Kinetic & Grand Visual's very informative report: statistics and DOOH trends for the year, shifts and evolution in consumers perception regarding the medium and mention of the most original Digital Out of Home advertising campaigns.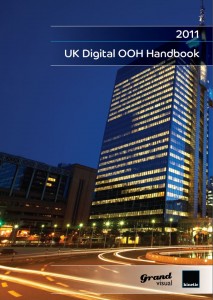 digitalsignage.NET becomes Chamber TV's software of choice
The post announces Dynamax's partnership with leading AV company Chamber TV that chose our cloud- based software digitalsignage.NET  for its scalability and reliability. Focused on enhancing communication via digital channels, this partnership saw our  software installed in colleges and sports venues enabling organisations large and small  to send timely and targeted messages in just a few mouse clicks. For case-studies click here.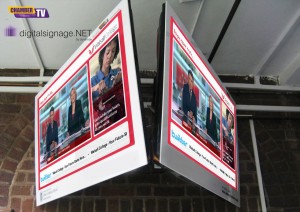 Interview of Pascal Cübb on digital signage trends in Europe
Pascal Cübb shared his views with us on the digital signage industry earlier this year, explaining us why are world of marketing and communications undergoing a revolution and what does it consist of. "The outdoor TVs are a logical evolution of television enabling organisations to distribute content to targeted locations.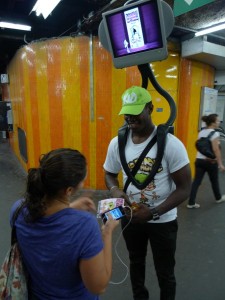 Cübb's Cyklops.
UK's 1st network of roadside digital screens
The posts acknowledges the installation of the first network of roadside screens in London's affluent areas.  Owned by Clear Channel UK, the 100 72" HD screens will reach around 10.8 million consumers/ week with targeted and location- based ads offering brands a "New Way to Talk to London".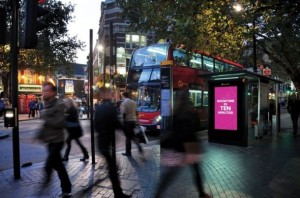 We couldn't have written some of the articles without the valuable input of top industry publications such as DigitalSignageToday, DailyDOOH, Sixteen-nine and Ooh-tv to name a few.
As we look to 2012, we do so with anticipation and hope for the digital signage industry and we look forward to interesting news from this ever dynamic sector.