The worst marketing mistakes we've noticed that would definitely have benefitted from a spell check.
Isn't it remarkable how credible brands (think Pepsi, McDonald's, and Lush) can suffer from so many marketing mishaps? With bank-breaking budgets that would cripple most entrepreneurs, you would expect the copy to make it through a simple spell-check.
But honestly, it's hilarious!
Before we get comments from the "Grammar Police," we'd like to make a case for clever content marketing. The old-age phrase "first impressions count" could not be more relevant when it comes to how consumers interact with your brand online. If there's one thing that prevents people from making a purchase, it's poor spelling. This is by far the biggest blunder a brand can make when it comes to promoting a product – as you are about to find out.
That's not to say brands need to get everything spot on, all of the time. We all make mistakes, but there's a big difference between the odd error here and there and a complete content failure.
In today's article, we have listed the top 5 spelling mistakes that make ordinary signs hilarious.
1) "Great, I'll just park my car illegally then!"
Ever pulled into a "car park" in a bustling city only to find parking is for residents only? Or, that it's private parking and your car will be clamped? Imagine your relief when you read a sign reading "Illegally Parked Cars Will Be Fine." Of course, it's not fine, and you should always adhere to parking regulations.
You've got to admit, though. It's pretty hilarious!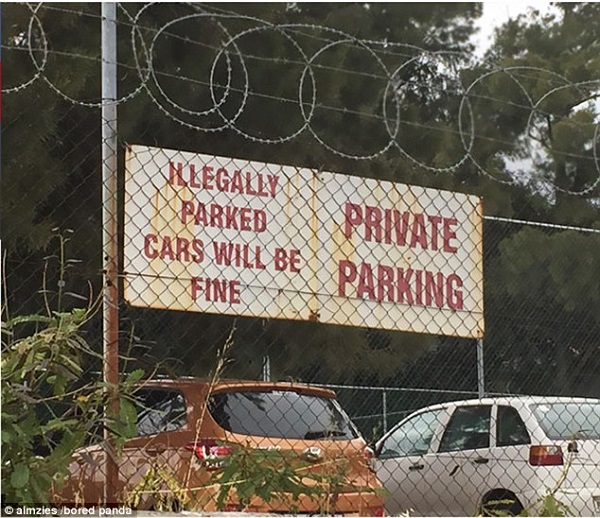 Image credit: Bored Panda.
2) "What happens if we click no?"
In a tech-savvy world, digital signage is everywhere. It takes the form of interactive billboards and even simple computer pop-ups as seen here. We've heard about computers taking control of our lives, but this is a little far – don't you think?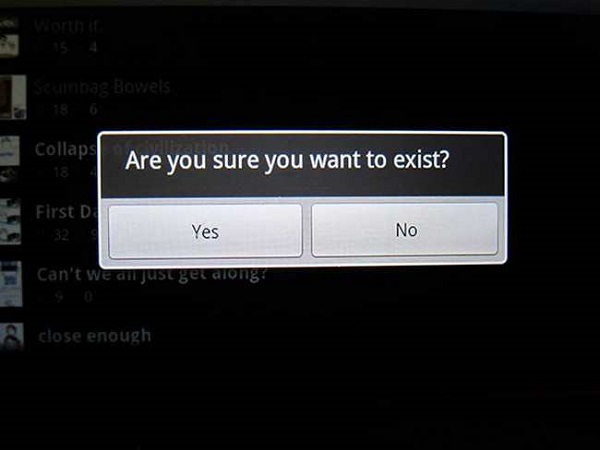 Image credit: Pleated Jeans.
3) "Oh, McDonald's. Really?"
How can you be responsible for an internationally recognised fast food chain, and get your marketing this wrong? McDonald's is renowned for spelling mistakes across all marketing campaigns, especially when it comes to signage. This is just one of the many errors we have spotted, including this hilarious typo "Now Hiring Smiley Feces." *Facepalm*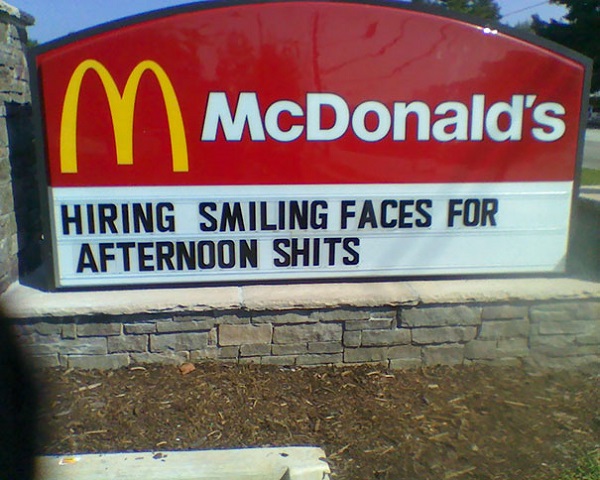 Image credit: Bored Panda.
4) "Food not very appetising …"
We all have a craving for something sweet at some point, but I am not sure if I fancy this desert seen in a local supermarket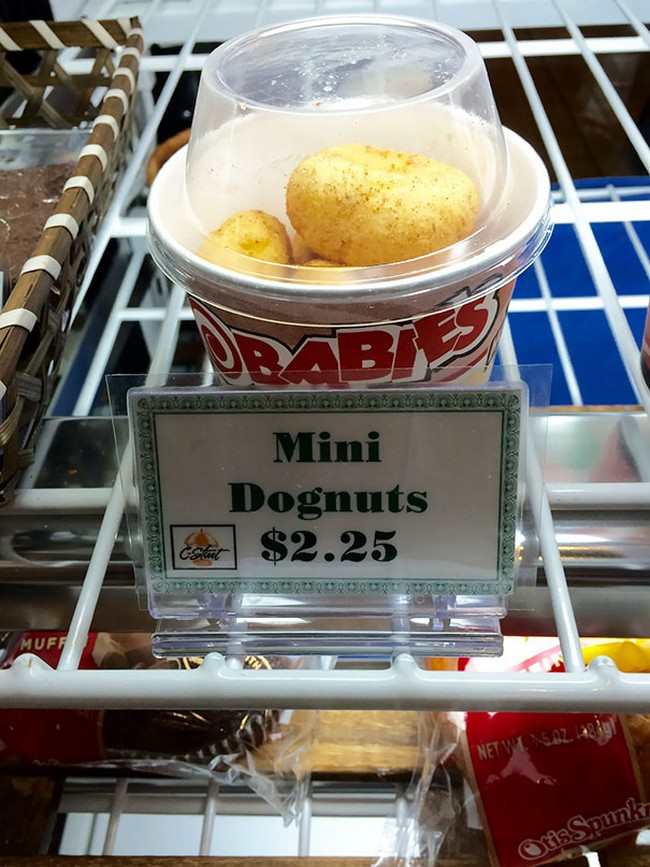 Image credit: Pleated Jeans.
5) "Teaching children grammar, the wrong way."
This sign sort of works if you interpret it as "your children won't learn anything." Nothing at all, because this sign is riddled with errors. When you work in marketing, advertising or product promotion, the difference between their, there and they're stands out like a sore thumb. Get it wrong, and it can change the whole context of the message.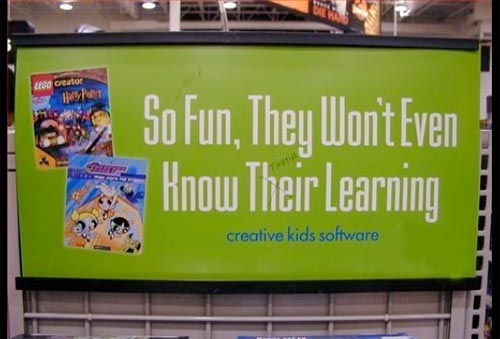 Image credit: 11 points.
Let's get serious…
When it comes to spelling errors, they can massively hurt your bottom line. Consider a cleverly constructed online marketing campaign. You've done the keyword research, and you know what to write about to get visitors through the door. Making one small spelling error can put a stop to your optimisation efforts and send your website to the bottom of the search results (basically, Google)! People won't see your site, and as a result, won't explore your products and services.
Likewise, if you invest digital signage and plaster your content across the street with errors, that's going to hurt your reputation. People won't trust the authenticity of your products and therefore won't buy from your business. Without a certain level of credibility, your sales will plummet. And, as you can assume from this article, these signs go viral.
If you are producing content containing text, then make sure that you have the spelling correct. If your company is global and you have to translate the message, then use a reputable company to assist. After all you wouldn't want to make the same mistakes as these companies have done.
Credits
This article was produced in collaboration with UK digital marketing agency, Bigfoot Digital, who are recognised for getting brands found online in the organic search results.
We recommend you visit their website to find out exactly what they can offer your business: www.bigfootdigital.co.uk .
This article was also produced in collaboration withIntrawelt,a professional international translation service for businesses across the globe. If you are looking to expand your UK business overseas, they can help you successfully communicate without any spelling slip-ups. They offer a complete range of services from translation and localisation to interpreting and quotations.
Speak to a member of their London office on 0203 6572572. Alternatively, you can send your enquiry to tjohn@intrawelt.com.
SaveSave
SaveSave
SaveSave
SaveSave
SaveSave
SaveSave
SaveSave
SaveSave
SaveSave