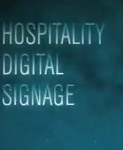 Hospitality players have become much more aware of the competitive benefit technology can bring to their venues. Wireless internet access and flat- screen TVs are already in the top of people' requirements. Besides amenities and the property itself internal and external communication means and their effectiveness have a strong positioning effect on the guests' minds. And they can make the difference between an average and an outstanding resort.
The reasons why hotels might want to consider digital signage as a fortuitous investment are presented below but the list is far from exhaustive:
– enhance your guests' experience. Placed in key locations like the lobby, corridors, escalator landing and inside escalators digital touch screens could display directions, meeting schedules, surroundings or even interactive maps. Sensors could spot the approach of a person and trigger a greeting or welcome messages and wayfinding information. Even more, if RFID (radio frequency identification) are embedded in rooms keys or conference badges, withing a swiping of a card customers could be welcomed by name and provided with relevant promotional information based on their past expenditures.
– decrease administrative costs and enhance employee productivity. The printing or emailing of non- confidential staff announcements or meetings schedule could be eliminated and the message disseminated in a few clicks, saving time and admin resources in an eco- friendly way.
– incur a new stream of revenue. A highly interoperable digital signage network allows hotels to sell screen- advertising space and run ads for collateral or nearby businesses their guests might be interested in.
– promote your hotel's image as a forward- looking brand technologically and aesthetically.
– attract more of your audience's attention. Studies show that a dynamic creative obtain 24% more views than a static one (like a poster).
The cloud- based technology behind digital signage also implies that hotel managers don't have to worry about backing up their data, storage or deploying a large IT team as large Amazon and Microsoft data centres are sub-contracted by most digital signage companies exactly for these reasons.
The quality and functionality of the new digital signage systems enable hotels to nurture their customers' loyalty and goodwill toward the venue by offering them an improved overall experience and easing their accommodation to a new environment.
For more info click here.