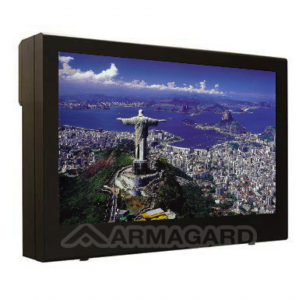 306 events, 206 countries, 42 sporting disciplines across 37 venues, the Rio 2016 Olympics represents a huge opportunity for outdoor digital signage to reign supreme in Brazil this summer. Here's why…
Around the world, outdoor digital signage is being used by nations to promote their attendance at the Rio 2016 Olympics. For instance, digital signage was put to use in Australia to reveal the Olympic Team's flagbearer.
Equally, hundreds of digital signage vendors are sending screens of all sizes and specifications that will feature at the 2016 Rio Olympics and Paralympic games. Displays will be used across stadiums and areas surrounding venues for the purposes of brand promotion and televising Olympic events.
It's anticipated that the use of digital signage outdoors will escalate beyond the levels seen at the London 2012 Olympics given that, in just four years, AV technologies have advanced. Meanwhile installing screens outdoors has become progressively easier, though still not without its challenges.
Outdoor Digital Signage Use in Brazil
Digital signage use outdoors in Brazil has boomed, particularly in the last two years, which has everything to do with the 'Samba nation' hosting the 2014 FIFA World Cup. There's already a strong digital signage presence across the country, particularly across football stadiums, for obvious reasons.
For instance, the Arena da Baixada Stadium in Curitiba, which is the home of the Clube Atlético Paranaense football team, has a staggering 220 digital signage displays in use. They were used to televise games and featured menus for concession stands during the 2014 World Cup and they're likely to be in action again to screen Olympic football matches.
Outdoor digital signage in Brazil is already making waves and has played a key role in boosting Brazil's economy, especially during the FIFA World Cup, as brands promoted their products and services to football fans from around the world. It's a certainty that it will have an even bigger impact during the Rio 2016 Olympics.
Why? The International Olympic Committee expects nearly 500,000 tourists to descend on Rio for the Games, but that's just a conservative estimate. Following the success of the FIFA World Cup, tourist numbers will probably surpass the half a million predicted to arrive.
At various points throughout the Games, tourists will come into contact with outdoor digital signage, and with Digital Out-of-Home (DOOH) advertising already hitting 60% of Brazil's EAP (Economically Active Population) according to figures published by brasilsignage.com, DOOH already ranks as the second most viewed media behind free-to-air TV.
Outdoor digital signage will reign supreme in Rio because of the versatility it gives vendors to reach tourists and locals alike. DOOH can be deployed in a variety of ways as:
Menu boards
Wayfinding points
Self-serving kiosks
Information stands
For vendors, the versatility of DOOH attracts big name brands who will pay a premium to advertise content to mass audiences at a major event, hence the reason that there's been fierce competition among vendors to win digital signage projects in Brazil ahead of the Olympics. The fact that competition is fierce highlights the significance of DOOH.
The beauty of DOOH at the Rio Olympics is that content can be displayed in multiple global languages and can be made specific to a particular event. For instance, brands advertising golfing equipment can develop content that appeals to golfing fans and stage the content to feature on digital displays at golfing venues in Rio.
The increasing number of outdoor digital signage deployments in Brazil is testament that it's establishing dominance as an advertising medium and, with an international audience set to descend on Rio for the second time in two years, digital signage will play a major part in making the Games a success for organisers, sponsors, advertisers and audiences alike.
Ultimately, while DOOH is still a growing market in Brazil, the Games provide an opportunity for digital signage to increase its influence and take centre stage as the platform that connects audiences with advertisers.
Avoiding Outdoor Digital Signage Downtime in Brazil
However, for DOOH to reign in Rio, it needs to be able to survive Brazil's scorching summer temperatures. Cue the need for outdoor digital signage protection. Protection comes in many forms, but for the purposes of flexibility, an outdoor LCD screen enclosure represents a sound option.
LCD enclosures can accommodate most screen sizes manufactured by the world's leading screen suppliers. Equally, they come equipped with components that will prevent screens from overheating as a result of Brazil's scorching summer temperatures. The single biggest threat to digital signage at this year's Olympics will be the heat.
Setting up a digital signage network without protection in scorching heat is like a tourist spending three hours on Copacabana beach without sun cream. The consequences won't be pretty.
If you're interested in LCD screen protection for the Rio Olympics, call 0121 608 7226 for a product consultation.
If you require software to drive your content to your screen, call Dynamax on 01254 503666 and we will advise the best digital signage solution for you.


A dedicated copywriter for 12 years+, Daniel is Head of Content for Armagard who specialise in the design and manufacture of Digital Signage Enclosures. Daniel blogs frequently on the digital signage industry. Connect with Daniel on LinkedIn