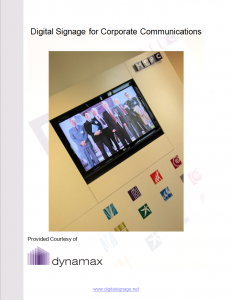 Remember those screens  you've seen in office reception areas, lounges or boardrooms? If you've ever wondered how they work or  are interested in using them for your own corporate communications, then this whitepaper should help you understand their technicalities.
The system, known as digital signage, allows you to display up-to-date dynamic messages that can be updated almost instantly and remotely throughout the day.
The whitepaper consists 20 pages giving you an overview of the main system- related aspects you need to be aware of, all in a non-technical language. After reading you will understand:
–          What is digital signage and which are the main elements of the system;
–          The benefits of using digital signage (information displays) in a corporate environment- 3 short case-studies included;
–          How does this channel differentiates itself from other corporate communication vehicles;
–          The difference between on-premise and cloud-based digital signage solutions.
Click here to download the whitepaper.