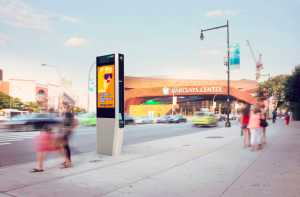 Anyone fancy a citywide Gigabit WiFi network in their city? Well according to the blurb…
"LinkNYC is a first-of-its-kind communications network that will bring the fastest available municipal Wi-Fi to millions of New Yorkers, small businesses, and visitors. The five-borough LinkNYC network, which will be funded through advertising revenues, will be built at no cost to taxpayers and will generate more than $500 million in revenue for the City over the first 12 years."
This looks like a very smart move to install WiFi points of presence that also double up as digital signage advertising locations (with mobile phone charging points thrown in for extra measure).
One of the members of the consortium is Titan, who already have deep experience of outdoor advertising in and around NYC not to mention the MTA (Mass Transit System), so I am pretty sure that every gotcha (like vandalism) has been thought through and catered for. Dynamax have worked with Titan in the past on digital signage deployments in NYC, and we wish them well with this venture.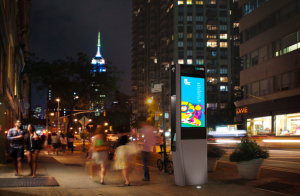 You can read more about this exciting project here.