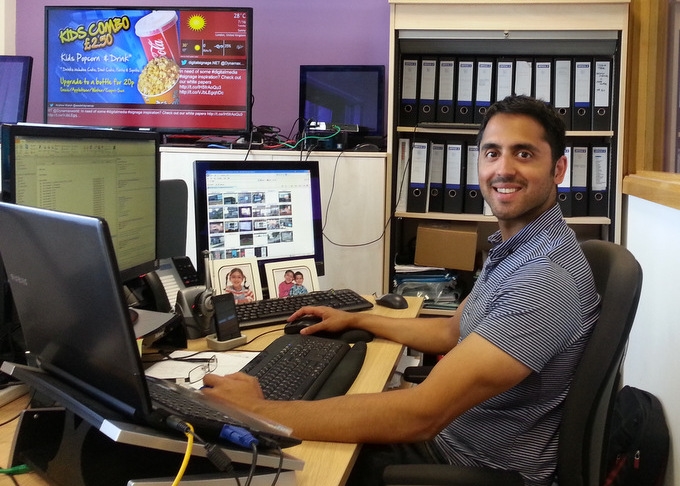 Remember Ghani? We announced his arrival at the company a few months ago and you might have already spoken to him on the phone or via email when requesting help with digitalsignage.NET or POV.  Now Ghani has become a Customer Support hero in his own right and it is people like him that make our customer service  nothing short of stellar.
Here's what Ghani has to say about his work.
How would you describe your typical day?
As we supply three different types of digital signage software, a typical day for me would involve dealing with issues on any of these. My role is varied, some days would include speaking to our developers about new features within the software and then testing the latest versions. I also test new players with our software. I have worked on the recently launched Android player that runs our software and we're really proud about the result. It makes digital signage so easy to install– just plug and play and you're ready to go!
What do you like most about your job?
I enjoy the varied aspect of my role the most. I'm not always doing the same thing, so it's exciting and challenging. I occasionally visit customer sites (mainly railway stations) as we also maintain the large LED screens. I enjoy the site visits as it allows me to see the software in the live environment and makes a change from being on the other side of a computer.
I enjoy the working environment, it's a friendly team and we are always having a laugh and a joke about anything and everything. Help is always available when needed.
You've been with Dynamax for a few months now. What do you think about the company and the team?
It's a great company to work for, they really look after you and genuinely care about you.  Everyone is friendly and easy to get along with and I think this reflects in the relationship with our customers too. The entire team at Dynamax cares about the user which is at the centre of our entire work- from product development, to sales and marketing and customer service.
You provide support for digitalsignage.NET and POV on a daily basis. What advice would you give to users and prospective users to make the best use of the software?
To make use of our forum; it contains lots of helpful information. We update it on a regular basis with new issues and how to resolve them so it's a really useful tool.
—
As you can see, you'll be in good hands when partnering with us. As a user, you'll be given all the help and attention you need. So why not set up a digitalisgnage.NET account for FREE and see what we can do for your digital signage project?

If you're already using our digital signage software, you can always reach Ghani (and anyone in the support team) using the following email address support@digitalsignage.net.