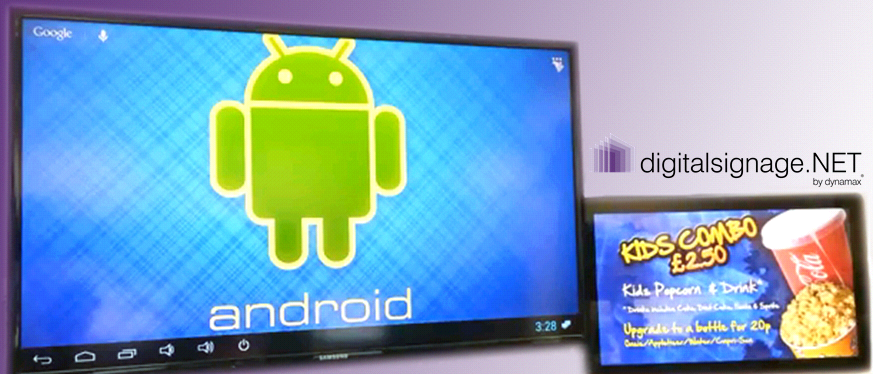 digitalsignage.NET, our cloud-based digital signage system is an easy-to-use application that allows you to manage your content and screens remotely, straight from your PC or laptop, with just a few clicks of your mouse. We have now bundled it with a robust Android media playback device to offer you a reliable plug-and-play communication solution.
Providing virtually the same functionality as PC media playback devices, the cost of our Android player is considerably lower making it an attractive product, easy to install, resell and use.
The digitalsignage.NET Android solution allows you to play the same video and image formats as the other supported playback devices (SMIL and Windows PC's) so you or your clients can save money without compromising on quality. The same scheduling and management features available in the PC version of digitalsignage.NET are available in the new one, enabling users to upload, schedule and send content to their screens, monitor and control their install remotely, just as usual.
Forthcoming versions of the Android player will support layouts and a wider range of media playback formats that will be communicated at a later date.
Our digital signage solution is ready to launch after a lengthy period of thorough testing, being a solid, future-proof product that can be used in a variety of environments.
For more information about our Android bundle and its availability for sale, please contact us today.
You can also set up a digitalsignage.NET account for FREE and see how our software works.

| | |
| --- | --- |
| Pricing (SRP) | |
| £249 + VAT including 1 year subscription |                             1 Year Warranty |
| | |
| --- | --- |
| Technical specifications | |
| Operating system |  Android version 4.1 Jelly Bean |
| Processor | 1.6Ghz Dual core ARM A9 with a quad core MALI GPU |
| Internet connectivity | Wi-Fi/LAN |
| Internal storage | 16Gb |
| Supported file types | Videos, images and Flash |
| Real-time monitoring and control with error notifications sent via email | yes |
| Full-screen playback/multi-zones | Full-screen* |
| Energy efficient | < 5W |
| Weight | 197g |
* Layout support will be implemented in a future version
We are actively recruiting Value Added Resellers, so if you would like to offer our Android digital signage solution to your clients, don't hesitate to get in touch.