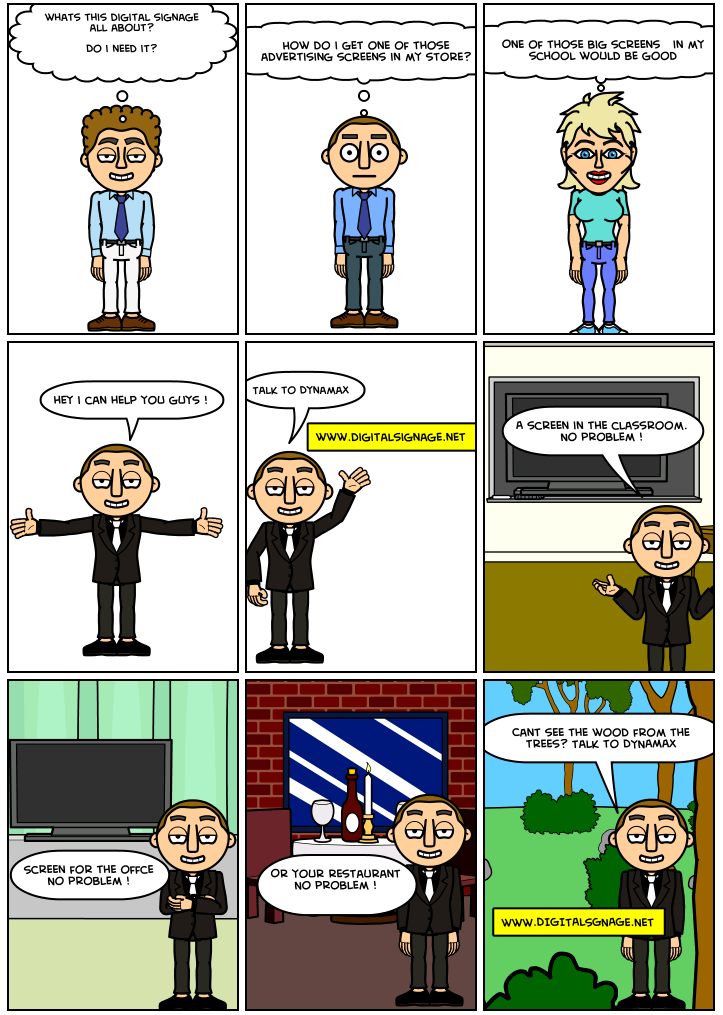 A while back, Andrew (our Operations Manager) put together this cartoon meant to visually depict our company's expertise and our product's versatility. While digitalsignage.NET can be used in a variety of environments, he focused on four- retail, education, hospitality and corporate.
If you want to use one or several digital advertising screens in your store then you're onto something good. ''According to a study conducted by Infotrends and quoted by DigitalSignageToday, in-store digital advertising leads to:
-a  29.5% increase in the average purchase amount
– a 31.8% upswing in overall sales volume
– a 32.8% growth in repeat buyers
-a 32.8% raise in in-store traffic
Digital signage systems enable retailers of any size to deliver targeted, timely communications to their customers and refresh their messages throughout the day.
Incorporating social media feeds and QR codes, retailers can promote their other communications channels (their own websites, Twitter or Flickr accounts), direct viewers to those and influence their behaviour in store. '' excerpt from our white paper ''Digital Signage for Retail'' that we encourage you to download by clicking on the image below.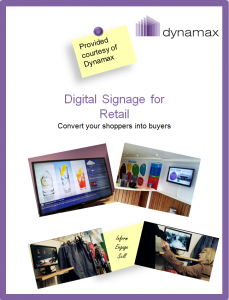 digitalsignage.NET enables you to:
–          Promote your products, advertise special offers, present the hidden features of certain items in a visual manner;
–          Post new communications throughout the day;
–          Control what message appears on which screen at what time of the day, remotely, straight from your office or from any location with an Internet access. All you need is a Windows PC or a Mac and the login details of your digitalsignage.NET account;
Sign up to digitalsignage.NET for free.
—
''One of those big screens would be good for my school'' says the lady in the cartoon above and here's the reasoning behind the statement:
''Networks of screens offer you a dynamic, exciting method to communicate with your staff and students. It becomes simple to inform them about events, display messages or exhibit work.
Information can be streamed in real time from different websites (Flickr, BBC etc) to display the latest news, photos or live videos.
Digital signage (systems powered by digitalsignage.NET) can be used to:
–          Display time-critical and instant announcements
–          Inform students and teachers about news and events to create a sense of community
–          Show students' work to instill a sense of pride and achievement''
Excerpt from our white paper ''Digital Signage for Education''. To learn more about the technology feel free to download it and/or contact us for a FREE consultation. As Andrew says: ''A screen in the classroom? No problem!'' Give us a call and you'll chat to him in person.
—
A screen in the office or digital signage in a corporate environment makes it easier for you to disseminate time-critical information to staff at all levels and break down communications barriers caused by distance, lack of devices or connectivity (i.e. no Internet connection or no email access).
"Today, whatever you say inside of a company will end up on a blog, So you have a choice as a company – you can either be proactive and take the offensive and say, 'Here's what's going on,' or you can let someone else write the story for you." says Rusty Rueff, a former HR executive at PepsiCo[3]. Digital signage helps you to do just that – present the story from your perspective and influence your employees' attitudes and behaviour.''
To read more, download our white paper '' Digital Signage for Corporate Communications'' or request a FREE consultation.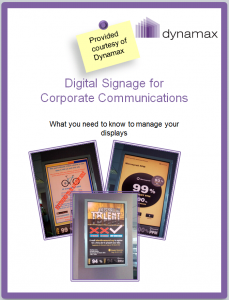 —
Could your restaurant do with digital menu boards to complement printed materials and advertise specialities based on the time of the day rather than just the day of the week? Do you want to be able to promote and update special offers quicker and respond to important events in real time?
''This technology enables you to display a wide range of information- from menus, news, welcome messages, alerts and entertainment in the format of your choice (from JPGs to HD videos, from social media feeds to IPTV channels).''
Download ''Digital Signage for Hospitality'' and discover other uses and benefits of the technology for restaurants and hotels.
Or get in touch with us, Andrew would happy to answer your questions.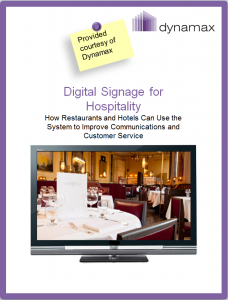 Want to see digitalsignage.NET in action? Register for our webinar and run the chance to win a FREE 1-year subscription.