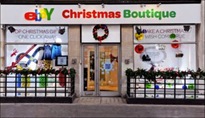 Brio Retail, a Paris- based agency specialising in commercial architecture and in-store merchandising and design drew up an analysis of what cross-channel trends we'll see arising this year. The company notes an interesting trend in the distribution strategies of online sellers and the changes in consumer behavior that caused it. Conclusion: the online and the offline worlds collide and the stores need to respond.
''While brands will always open online shops, online sellers started looking into having a presence in the offline world. The aim: a cross-channel distribution that gets as close as possible to the consumer.
The buying and information channels need to be in sync with each other in order to respond to the new buying habits of the consumer.  2011 seems to have been the year when this concept was understood and accepted; 2012 is the year when brands will act on it.
A few recent indicators shape the trend:
1)     The opening of physical stores by major actors in the online commerce such as Google, eBay, Paypal, Android, Cdiscount and Amazon.
2)      The French Federation of E-commerce and Distance Selling predicted the end of e-commerce by 2020. In reality, this is not to say that e-commerce will completely disappear but rather that it would be integrated in the global distribution strategy of products, just as any other channel.
3)      The increased usage of mobile internet (and thus the possibility of being in constant contact with friends) changed the in-store buying behavior.  25% of today's consumers are checking their social media accounts while in store-  45% of them do it for locating themselves, the other for researching, comparing and verifying product information (according to Performics and ROI Research reports).
Most brands will claim they have already embraced a multichannel approach …the last major evolution in this field being the setup of an online shop allowing retailers to sell their products over the Internet.  The purely online companies are now taking the exactly opposite route and open physical stores. This evolution was made necessary by changes in consumer behavior:
–          30% of consumers do their product research in store and make the purchase online (McKinsey 2011);
–          53% of consumers do their research online and make the purchase in store (McKinsey 2011);
Until recently, a channel- oriented approach consisted in making products available on all the channels preferred by consumers, in a circumstantial fashion.
When it comes to cross- channel commerce, this requires a sound company strategy which isn't multichannel anymore but is centered around consumer intelligence and personalised marketing actions.
So, in practical terms, what will happen in retail in 2012?
Up until now, the brands succeeded in creating a convergence between the buying experience offered online and the one in physical stores.
Something different will happen in 2012. The customer experience in physical stores will tend to become more similar to the one online,  creating a multichannel offer right within the shop.
More resources will be committed to social networking, online shops, tablet and mobile applications. More fleeting shops, pop-up stores and other tools will be employed to attract consumers' confidence and create a unique and personal experience.
Developing a high quality customer service-this is crucial to the success of brands in their cross-channel approach and that needs to be continuously developed.
Everything proves it; the first brands that will integrate the strategic possibilities offered by cross-channel commerce will be the ones reaping the rewards this year.''
With this in mind, digital advertising screens can be used to create a more playful environment that resembles the website experience more, allowing customers to manipulate the information. The recently announced Kinect for Windows could give rise to interesting in-store applications while mobile apps enabling consumers to interact with the screen (most often, play)  are already in place, confirming the cross- channel trend mentioned above.
The article was originally published in French by industry publication Ooh-tv and it's used with the author's and the publication's explicit permission.
Want to learn more about digital signage in retail? Download our complimentary white paper.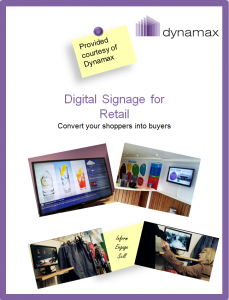 See our full list of white papers here.
Need help with your future project? Contact us for a FREE consultation.