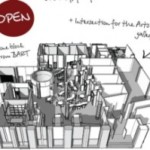 We all know how difficult it is for SMEs to get things going and the days when fancy offices were even considered are far gone. At this stage money could be spent on much more important projects. So after coming across a Wallblog article mentioning affordable office spaces  in London we thought to summarize the goodness in it and give a much needed hand of help to new businesses. So here's where to go if in need of inexpensive office space:
1) TechHub is now the flagship centre for affordable office space for technology businesses- the article states- but be careful, it's aimed at IT start-ups only… A membership to TechHub will run you £300 for the year, and £10 a day for when you turn up, with free access to all the events on offer. Sounds good so why not go and check it. The venue welcomes members from Europe, US, Middle East, India and China  in an effort to facilitate networking and collaboration among similar businesses run by like-minded people.
2) The Hub is another place for SMEs looking for accommodation. Quite centrally located, in Kings Cross, the facility is mainly focused on social enterprises and offers besides office space some website space as well. New comers are mentioned on http://the-hub.net and businesses & the ideas behind them are highlighted in the "People" section. Not in London? Don't worry. The same services are available in cities like Toronto, Atlanta, Milan, Stockholm or Cape Town. Enjoy!
3) On zero budget? The Space Studio in Hackney offers free co-working "Jelly" Thursdays. This is a great option for you if you are a more creative or arts oriented start-up as they're dedicated to support this field.
4) The Tuttle Club– aims at creating a social media café for London by inviting anyone interested in networking to their Friday free-to-attend meetings. You find them at the Centre for Creative Collaboration,  and you're welcome if you're looking for other SMEs to work with both online or offline (click here to find out more) or just looking to work somewhere else than at home on a Friday afternoon.
Hope we've helped. This is not actually digital signage – what we do for a living- but some good advices cost nothing and do loads of good. So  discover these venues and spread the word  if they're interesting.
You can read the article in full here.