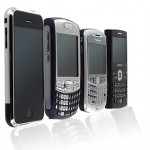 It seems that companies of various sizes, types and from various locations begin to understand the benefits of  customer engagement  and more and more solutions are developed to address this rising interest. Here are 5 examples recently mentioned in industry publications proving that out-of-home advertising becomes increasingly digital, interactive and mobile.
1. Target- a video game brand endorses digital signage kiosks to educate the customers about the games and make it easier for them to share information. The kiosks provide detailed product descriptions, images, ratings and customer reviews from target.com that can be emailed or texted via the touch screen (source: digitalsignagetoday.com).
2. Lusens' solution- a Canadian company that designs gesture-recognition, multi-touch surfaces such as tables, walls, windows meant to deliver "memorable customer experiences" allowing several persons interacting with one screen at the same time (source: digitalsignagetoday.com).
3. The partnership between Canadian RTown Communications and iSign Media Communication that will provide a Bluetooth-enabled marketing solution allowing sellers to target potential shoppers within a 300 ft distance from a  certain location (cinema, restaurant, bank, store etc.). iSign Media's proximity-messaging mobile application will be used in hotels where RTown's HotelTV solution is deployed (source: ooh-tv.com). Update: iSign has just been appointed to deploy its system in 1,400 convenience stores across Canada and is expected to reach 85 million mobile devices per month with an initial 7% download rate of coupons, advertising and other rich media content.
4. Ströer's Vooh!- a smartphone application which recognizes an image and redirects the user to the website associated with it. This product is used for traditional posters rather than digital signage and it works very much like JCDecaux's USnap, another visual recognition app that allows users to 'snap' a photo on a printed poster and be redirected to an online source of information on their smartphones (source: ooh-tv.com).
5.  The collaboration between Smart City and Monster Media geared towards offering interactive events solutions– enabling attendees to "stay connected" via touch screens that allow emailing, picture taking and photo manipulation. Their system also provides analytics and feedback on attendees' interests (source: digitalsignagetoday.com).
Of course, interactive technologies are not suitable to all locations (read this 11th screen post on the topic) and they are usually the chosen engagement tools of brands with the necessary the budget for them. This doesn't mean that interactive digital signage must be costly or complicated, a QR code could sometimes suffice if the right conditions are in place (dwell-time, relevant offer, an audience that understands the use of QR codes).
Download our white paper to learn more about digital signage.