The convicts from a jail in Buffalo, NY can now see ads on a giant HD screen placed in the lobby used by family and friends and in the booking area, reports the Buffalo News cited by sixteen-nine. But not any kind of ads but ads about services they would be particularly interested in, at the moment. Attorneys services. Isn't digital signage about delivering the right message, at the right time, to the right place and audience? Well, yes and this is a prime example.
Proving that digital signage works when the project is well-thought and communications are relevant,  we are told that the "unusual advertising service" became so popular among lawyers that space is quickly selling out.
The prison retains 1/3 of the advertising revenue and is able to display its own messages as well. "We believe this will be a very helpful program, which will improve our communication with the public and our inmates/ detainees," said Undersheriff Mark N. Wipperman. "The monitors will provide information and answers 24/7 to the most frequently asked questions by the public and our inmates."
A similar project was launched in Florida, with attorney ads displayed on smaller devices: video terminals, for six hours a day. Apparently both jails' officials and lawyers become increasingly aware of the benefits of communicating with their audience at the right place & time.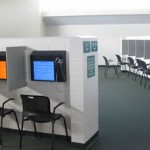 Photo source: sixteen-nine
About Us
Dynamax are one of the longest standing digital signage companies worldwide. We provide enterprise and entry-level digital signage software solutions to organisations small and large, from large media owners to colleges and charities. Learn more about our company here.
Get started with digital signage by signing up to digitalsignage.NET for free (browse this website to learn more about it).