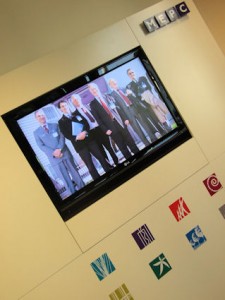 MEPC, a prominent name in the UK commercial property for more than 60 years uses POVng- our premise-based digital signage software- to promote its properties and create an impressive presentation room for their new office at Chineham Business Park in Basingstoke.
Requiring  an effective way of promoting their business and reinforce their high profile, the company resorted to digital signage which allows it to displaying images of their estates & buildings to potential customers. We give due credit to our partner- AuDeo Systems– for the planning and installation work involved by this project .
The demonstration of our digital signage software allowed MEPC to see the potential of the system and the way it would enhance the look of its premises. Being assisted throughout the entire implementation of the project, the company was offered the best solution for its particular needs and requirements.
By using POVng, MEPC is now able to run an eye- catching company presentation continuously on a 42'' LCD screen installed in a prominent area of the reception.
In its state of the art marketing suite, our digital signage software powers three 26''LCD screens and a 42'' LCD one which showcase more personalised presentations of the company's different building styles.
The collaboration between Dynamax and AuDeo resulted in providing the MEPC team with comprehensive user familiarisation training for their new digital signage system as well as on-going customer support.
About AuDeo Systems Ltd
AuDeo is a specialist integrator of high quality Visual Communications solutions, meeting room scheduling solutions, TV/video distribution and digital signage. Established in 1998, AuDeo has grown to be one of the UK's foremost providers of this exciting technology.
About MEPC
MEPC owns and manages eight Business Estates in prime regional locations throughout the UK, providing high-quality space for more than 1,000 organisations. Their Chineham Business Park is a 95 acre mixed-use business park home to over 50 organisations from local enterprises to international headquarters, employing over 3,500 people.
About POV
POVng (Point of View- new generation) is our on-premise content management software,  powering thousands of screens and reaches over 30 million consumers every week. Characterised by robust management and stability, it' s being used by large media owners such as Clear Channel UK and Bravo Ireland as well as by organisations of all sizes throughout Europe and South America.
If you're interested in video communications, contact us today.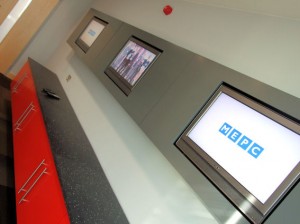 Screens in MEPC's  marketing suite powered by our software.