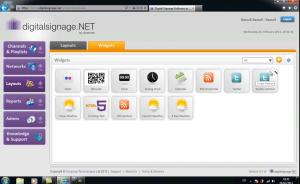 HTML5 opens a new era for our industry. A few months ago, we decided to incorporate the technology into our digital signage software and enable those with few or no content creation skills to spice up their screens with little or no efforts from their side.
The webinar will give you a walk-through of the new version of our software, with a special focus on the new HTML5 widgets in digitalsignage.NET. Being pre-recorded,  it can be watched at any time once you register.
By watching it, you will learn:
1)      How to add and schedule your content files in digitalsignage.NET;
2)      To create layouts and organise the information on your screens;
3)      What are and how to use the HTML5 widgets available in digitalsignage.NET;
4)      How to add a media player to your account;
5)      How to add users to the system and give them different admin rights;
6)      How to monitor the performance of your digital signage solution and export reports;
7)      How to access support straight from your account.
As a  webinar registrant, you will be entered into a prize-draw for a free 1-year subscription of digitalsignage.NET if you share or Like our news on Twitter, Facebook & LinkedIn . You need a subscription to send content to your screens.
Sign- up for our webinar  if:
–          You're a school or college interested in communicating relevant, timely information to staff and students;
–          You're a retailer wanting to advertise your products in-store and update your offers in real-time;
–          You're interested in using digital menu boards in your restaurant;
–          You wish to digitise the printed posters throughout your hotel, communicate room availability on the go and promote your amenities;
–          You are a public or private organisation that has a variety of information to communicate to an audience interested in this;
–          You are interested in reselling digitalsignage.NET and becoming a valued Dynamax partner.
 Update- Please note that as of Friday, the 12th of April registration for the webinar is closed. You can watch it here and find out who the winner was.