Organisers of the London Fashion Week, the highly prestigious event that took place last week, chose an innovative way to promote the show and keep London's fashionistas abreast of the latest presentations.
Live tweets and photos from the editors of Vogue magazine were shared with the capital's fashion conscious but busy audience via screens located in London's tube stations and outside the Westfield London Shopping Centre. The choice of this medium was not random.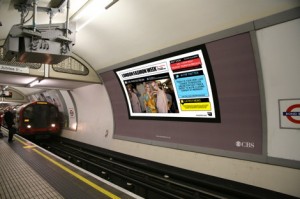 CBS Outdoor's digital displays in London tube stations
Photo source: DailyDOOH
Here are a few quick thoughts on the news:
1) Most of us would probably agree that photos are one of the most effective ways of promoting highly visual items such as clothing. Sharing them with key audiences in key locations in almost real-time enhances their impact and the WOM (add social media feeds to this and you've got yourself a successful multichannel communication exercise). In the end, 80% of consumers prefer locally- relevant ads (JiWire Mobile Audience Insights Report).
2) Printed posters just won't do– as they are a very limited medium in terms of message timeliness and volume. A news-rich event such as this one could never be portrayed in one paper poster or just a few images, not if you wish to ''feed'' an information-hungry audience on the go with timely communications. Digital posters though tick all the boxes and can always be reused for another purpose.
3) Glamour and efficiency can go together. The choice of screen media was a well-thought tactic. Besides the press coverage it got and the ability to reach a mass audience, the medium scored high in terms of long-term efficiency. The digital screens can display a high amount of information (in various formats, from social media feeds to videos) over a much longer period of time than posters, at a fraction of the cost. Instead of using printed materials to promote their latest collections or promotions (that will be replaced at the end of the season) fashion retailers can install a digital screen network and use the same system (displays, players and software) for communicating thousands of messages, during several years.
The beauty of this marketing & communication platform is that, while used by prestigious brands, it is available to retailers small and big. If the digital billboards are still a luxury reserved to large advertisers, smaller, indoor screens are often used as a  small-scale equivalent, enabling smaller companies to sell or buy advertising space on displays in high-footfall locations. digitalsignage.NET is used by organisations small and large to disseminate information quickly and easily, sell advertising space or display their own adverts on networks of screens installed across various venues.
With the rise of cloud- computing, the technology behind digital posters has become more affordable and less demanding in terms of time and skills, placing the back-end, maintenance work in the hands of the vendor. For example, at Dynamax, we offer a maintenance- free scheduling and content management software (digitalsignage.NET), free automatic updates and back up the user's data for the total cost of £8/month. The fall in LCD TV's prices have also contributed to making the technology available to smaller players.
Take the example of our shopping mall in Blackburn, Lancashire that uses several digital screens installed in its hallways to display adverts of brands and stores it hosts or of services of local companies (lawyers and hairdressers etc.) and generate revenue from this exercise. Some of our customers are multimedia companies who use our application to manage advertising screens from specific locations (Review Systems, for example, manages ads on displays  in motor dealerships across the UK.)
The digital world gave way to interesting advertising and communication technologies such as digital signage. More feature-rich yet increasingly simpler at the user- end, digital communication solutions such as digitalsignage.NET enable companies to send more relevant, timely and actionable information to their audiences (customers, staff or visitors) based on where their location.
To find out more about our digital media solution, contact us today.