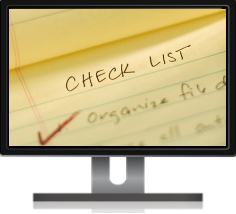 As announced in the 1st part of this series, we are continuing the list of questions you need to consider before deploying a digital signage system. The topics covered are valid irrespective of the industry or sector you are part of: be it healthcare, education, corporate, retail or hospitality.
In this last part we are going to address the content & hardware bit of your digital signage project and here are the questions we recommend:
Who is going to manage and provide content for your screens?
1) Are you going to create the content yourself (in house) or are you going to use content creation agencies?
2) Is there going to be one single person in charge of keeping your screens fresh or do several persons from your organisation have to be able to access the system to post relevant news to their location (store, office)?
3) Who owns the information you will use? If you're planning to display any information provided on the Internet (images, videos) make sure you have the permission to do so and you don't breach any copyright laws.
How often is the information going to be updated?
There's (almost) nothing worse than stale content on your screens which will make you miss the very purpose of digital signage: transmitting timely information in a dynamic, engaging manner. Therefore, assigning a person responsible for the system and establishing the frequency of refreshing its content is strongly recommended. This practice will help you present your digital signage system as a reliable source of information and it will encourage your audience to always monitor  it for finding out the latest news. Stale content (the same information displayed for weeks) will have the opposite effect: making viewers ignore the system altogether.
The hardware bit- Where will you place the screens?
1) Define the locations of your displays. Think which are the "hot-spots" for your audience while on your premises and then "highlight" them with a screen.
2) Define the size and orientation of your screens- make sure you enhance their visibility and impact (always go for the most visible locations. If your screens are not seen, the whole installation is pointless);
3) Are your screens going to be floor, pole or wall mounted?
4) Are electrical outlets available for each display point? Maybe you've chosen a great location but without any electricity source around. As you can't count on batteries, find another spot or try to fix the problem in some ways.
Going through these questions might result in understanding that not all your plans are feasible. But it's better to realise this sooner rather than later, at no cost for you.

Want to learn more? Download these industry- specific white papers to learn how to make the best of the system in your sector.