Although this blog site generally talks about our easy  to use Software As A Service (SaaS) digital signage application, sometimes we talk about our Enterprise grade digital signage application POVng.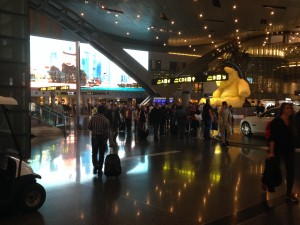 One such installation which we have not mentioned before is Hamad International Airport, Duty Free (Aka Qatar or Doha airport) which eventually opened in April of last year, with the duty free becoming fully operational in March of this year.
We were originally contacted back in 2010 when we were contacted by a number of regional System Integrators (SI) on behalf of a client who would soon be opening a new international Airport. Two years later in 2012, a large regional System Integrator called Consolidated Gulf ended up being selected as the main System Integrator, and after many consultations, and evaluations POVng from Dynamax was selected as the recommended application by CGC. Work with CGC continued at a pace, and in March 2013 Dynamax visited site to consult on the best way to work on this project from a digital signage perspective.
The system ended up consisting of consultancy, training, 2 x POVng server licenses (one for redundancy), 6 user seats, and 15 player licenses, powering a series of video walls and large LCD screens dotted around the duty free area.
Now the system is up and running, Dynamax are providing our renowned support services to the airport.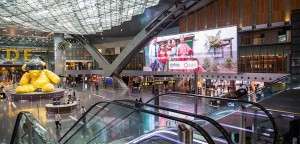 One of our roving staff passed through Hamad International and took the video below to showcase the use of our software POVng (apologies for quality as it was shot on an iPhone).