We're always glad to announce good news and always happy to feature our clients' success stories.
This time it's British outdoors clothing brand Rohan that wanting to enhance their stores' appeal made use of digital signage run by digitalsignage.NET and powered by IAdea's XMP-330 SMIL devices.
The digital advertising screens ( 19-inch LG displays) are in stores from three locations- Salisbury, Guildford and Bristol, United Kingdom and are employed to tell the brand's story and present its products. Our cloud- based digital signage application, digitalsignage.NET, allows Rohan to show videos of their clothing worn in various parts of the world, as well as demos that reveal the clothing's not-so-obvious technical features.
The headquarters upload, schedule and publish the content on screens in different stores, after consulting shop floor staff about the videos they want be shown in their location.
Here's how Peter Smith, Infrastructure Manager at Rohan describes the process ''Generally, our Marketing team create the videos, they'll send them to me and I'll ask the shops which screens they want to be showing which content and then it's just a simple drag and drop to get that content pushed out to them''.
Rohan's Chairman, Colin Fisher presents the reasons for using digital signage in their stores: ''We make gear that protects people in the world's wildest places, its technical benefits being rather hidden than overt.  So we decided to use digital signage to explain these technical features in a visual way. I wanted something that brought the product to life and there's nothing that beats digital signage for this. digitalsignage.NET made the content distribution into the shops seamless, delivering a quality output that involves a simple operation.''
Listen to Colin and Peter explaining the usefulness of the system in their own words:
https://www.youtube.com/watch?v=JHG9wPNkmDo&feature=player_embedded
Howard Smith, our company's Founder and Director also commented on the project: ''We are pleased to have had the opportunity to work with Rohan and show our software's ability to meet the complex needs of retailers as well as to reinforce the high potential of digital signage in this environment.''  

If you want to learn more about the uses of digital signage in a retail environment, feel free to download our white paper ''Digital Signage for Retail''.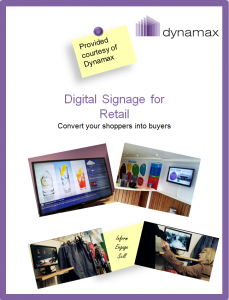 See what digitalsignage.NET can do for you. Sign up for FREE and manage your media files straight from your web browser.