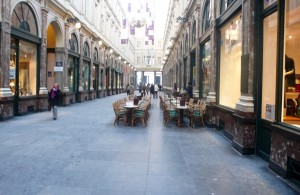 ''e-commerce is dead'' says Jérôme Toucheboeuf, the CEO of FullSIX Retail, a leading European marketing communications group, as he comments on the digitalization of the famous Galleries Lafayette in Paris (LSA.fr). ''Consumers are mixing the two channels. The shopping journey has changed; it starts before one even enters the store and it gets increasingly fragmented. We have to change the point of sale'' he concludes, highlighting the need to adapt the information provided in store to reflect this change and train your sales force accordingly.
What we've found out
Doing a quick research on what is going on in France in terms of retail digital signage and e-commerce, we've spotted a retailer that is embracing technology to enchant its customers and increase bottom line.
Take the example of FNAC, a French icon for everything culture and entertainment- related (books, DVD's and video games). For some while, the brand struggled to regain its strength, arguably because of the rise of e-commerce sites such as Amazon.
While building a strong online presence, FNAC focused largely on what made it successful- its brick and mortar stores. In one of his articles, The French retail specialist and editor of Le Furet du Retail, Jean Marc Megnin,  takes us on a 'virtual tour' of the brand's new store in Bercy, Paris and shows us how the brand uses  technology to create an immersive in-store customer experience.
Here's what we've learned from Megnin's analysis:
1)    'Free and rebel shoppers' demand a disruptive in-store strategy. With consumers able to compare prices virtually anytime- anywhere and go elsewhere if the offer is better, attracting them into the store and keeping them there became a greater challenge than ever before. Technologies like digital signage can be used to lure them in (via store windows displays) and then use staff and technology to influence and engaged them in a 2- way conversation;
2)    ''Create a connected store or fail'' says Jean Marc Megnin. Connect the dots by displaying a web page,  Twitter feeds or YouTube videos on your screens in store and prompt shoppers to ''Follow'' or ''Like'' your brand on social media to connect with you beyond the transaction.
A connected store means more than that- being able to order products online and pick them up in-store is another element that closes the loop and something that FNAC hasn't yet considered.
3)    Empower and train your staff to use the technology. We're told that the staff at FNAC – Bercy is 'armed' with iPads that allow them to scan items and offer customers additional item- related details such as ratings, availability and potential discounts.  The interactive kiosks too stirred the enthusiasm of FNAC's sales force who acknowledges using them much more often than their customers.
On a humoristic note, Mr. Megnin mentions the security staff who 'invited' people out on several occassions because they were 'taking photos' when scanning QR codes. Ensuring that all staff is informed about the new technology and how it's used is a good idea if you don't want them to stay in the way of the clients using it.
4)    When embracing a certain technology, make sure it works.  In his article, Mr Megnin notes that several kiosks of FNAC- Bercy were out of order at the time of his visit, which is regrettable given their cost and the role they were meant to play in this environment.
5)      Use technology to reinforce brand values.  The digital screen below is a tool FNAC uses to bring its hommage to Steve Jobs. The screen actually reads '' In front of its 'family' and associates, the entire FNAC team expresses its gratitude and admiration (for Steve Jobs)'' Just as Apple, the French brand had to reinvent itself and go through a sort of 'mutation' to stay afloat.
6)    But don't let it overpower your customers. ''The adoption of new technologies must be done with precaution so it doesn't dilute the store's DNA'' notes Frédéric Boublil, the retail director at Solving Efeso, a multi-national management consultancy firm.
The ultimate goal of the technology is to make it easier for people to choose a product and then buy it. Digital signage, for example, is meant to draw people's attention to a certain offer or product and then convince them to buy it. But if you're using too many screens that display too many messages (see Tesco's worst practice example) then you are not helping either consumers or your brand. On the contrary, you are rather alienating them, defying the purpose of the exercise.
To learn more about the use of digital signage in retail download our white paper.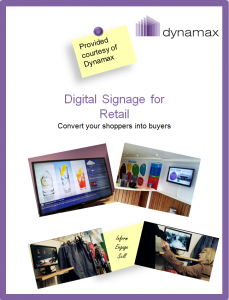 Ready to experiment with the technology? See what our cloud- based digital signage software can do for you, sign up today for FREE!