Among the many fun/ crazy news discovered today (such as the drum kit made up of chandeliers…) here's one worth presenting on our blog (more extensively).
News came to us that an interesting electromagnetic display made up of no less 44, 000 dots (or electromagnetic spinning disks) was put up in a storefront on 6th Ave., Manhattan. The display, created by interactive agency Breakfast, advertises TNT's latest crime show 'Perception' and will stay where it is until the end of July.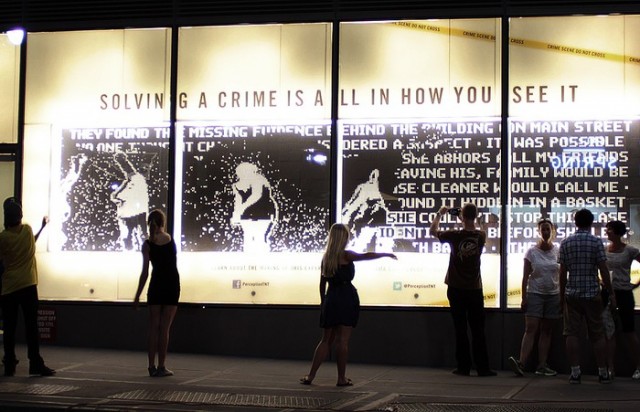 This is in fact a modernised version of time- table technology as the dots (white on one side and black on the other) move 15 times faster than their rail-station counterparts, as Engadget explains. The result is a fully- interactive experience in which your movements not only alter the message displayed but they also create a sound (to see what we're talking about, watch the video).
We're always thrilled to spot atypical applications of  (digital signage) technology. If you share the same interest, subscribe to our blog and if you have related news, drop us a line.
If solving a crime is all in how you see it then impactful advertising is all in how you do it and have others see it. TNT went big on this occasion with a 23 x 12 foot outdoor display that not only catches attention but also engages its viewers in a game of words, movements and sounds. Yet one doesn't have to match their size ambitions in order to be impactful.
Smaller yet dynamic digital displays powered by digital signage software can make a difference in your store, college, waiting room or hotel. Download our white paper to learn how location- based video communications can help you deliver your message at the right time, to the right place and impact your bottom line.