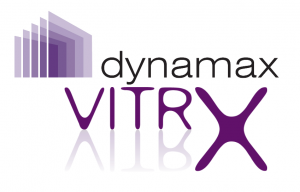 Dynamax teams up with Buckinghamshire-based Vitrx, a multi-vendor, mixed technology support and professional services organisation. The partnership has been established as part of our ongoing efforts to help businesses improve productivity and reduce costs through the use of location- based communications.
The companies joined forces due to the compatibility of their offers and their commitment to delivering premium customer services.
digitalsignage.NET, Dynamax's cloud- based digital signage solution was recommended to Vitrx by one of its clients. As the company was already providing cloud- computing consultancy, they found the product to complement their existing offer very well.
Vince O'Hanlon, Co-Founder and Sales Director at Vitrx, said ''over the past few months we have evaluated a number of potential vendors. Following the installation of a series of trial units within clients properties, the Dynamax cloud based solution received very positive feedback thanks to its competitive price point, ease of use and scalability.
Providing a 'one-stop shop' solution for its clients' technological requirements, the company considered digital signage as an important factor that can help British companies to decrease their expenditure  without compromising the quality of their business' processes.
Howard Smith, Founder and Director of Dynamax, commented on the news ''We are glad to acquire such a valuable partner as Vitrx, with a rich expertise in the IT sector. This partnership only comes to prove the increased awareness about the benefits of digital signage, outside the AV industry, which is only beneficial to our ecosystem. We believe that digitalsignage.NET will provide Vitrx's clients with the right tools to decrease their printing and travel costs, for example, while building a greener, more sustainable communications channel.''
Vitrx will act as a reseller of digitalsignage.NET while we will provide on-going customer support and consultancy to Vitrx and its clients. We are already working on joint projects together; news on these will be announced at a later date.
More about Vitrx
Vitrx is a multi-vendor; mixed technology support and professional services organisation focused upon delivering IT projects and resources  that improve output and add value to the mid corporate client base.
Offering clients the ability to streamline their IT functions and optimise business efficiencies, Vitrx provide vendor-independent sourcing services, comprehensive installation and maintenance support systems and complete managed print services.
For more information, visit www.vitrx.co.uk
Set up a digitalsignage.NET account for FREE and see what we can do for you.