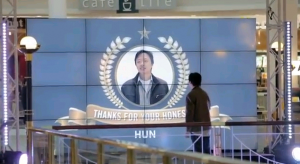 It's been a while since we had our latest 'just for fun' post but here you go, we thought that this use of digital signage truly deserves our attention.
An article of DailyDOOH  published earlier today acknowledged an interesting PR project of The National Australia Bank that made use of digital screens to publicly praise and encourage people's honesty.
The scenario: A fake lost property booth was set up in a shopping centre with different objects being 'intentionally' lost. A hidden camera photographed those returning the objects who were then overwhelmed by acts of public appraisal and recognition. The good-doers' photos and names were 'magically' displayed on screens as they passed by, as well as on posters, fake television and even cakes!
The campaign was masterminded by Clemenger BBDO Melbourne and was meant to promote the bank's new credit card. Ant Keogh, the executive creative director explains the idea behind this project, saying that for a moment they wanted to create an environment ''where a simple honest act generated a massive outpouring of public praise and attention. We thought honest Australians deserved exactly that.''
We were thrilled by this refreshing use of digital signage- that makes people's lives more interesting. The video also shows the incredible potential of digital signage software (like digitalsignage.NET)  for creating 'real-time' experiences.  And that's when the system is most successful in attracting attention and engaging the viewer.
Well, no more 'talking' from us – watch the video to see what it was like for the people involved.
http://www.youtube.com/watch?v=7rpG4IC5NFE&feature=player_embedded