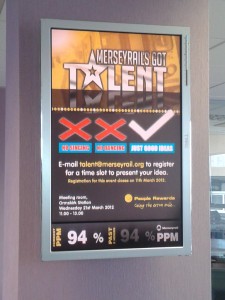 Cloud- based digitalsignage.NET  was selected by Liverpool train operator, Merseyrail to power their corporate communications network across all their sites. digitalsignage.NET allows staff to display site-relevant communications in conjunction with headquarters' messages addressed to all employees.
When approaching us, Merseyrail already had a system in place, the use of which was limited to displaying  train time efficiency national ratings downloaded directly from a URL. Wanting to enhance the usefulness of their displays and be able to communicate a wider variety of messages, the company started to look for an application that would allow them to do that.
Thomas Philips, Business Analyst at Merseyrail commented on the project.  "As the system we had in place was limiting the types of messages we could communicate and started to become redundant, we looked for potential ways to upgrade it. Dynamax's digitalsignage.NET seemed a simple solution that could be deployed over our existing IT hardware infrastructure. The user-friendly interface allowed us to involve our staff regardless of their technical skills and enable them to use content already created by their colleagues, further decreasing the amount of work required for updating the system."
For a company whose high quality services are recognised and rewarded through top rankings in the passenger satisfaction levels league table, establishing a well-coordinated corporate communications system was a must for reinforcing its standards. The digital signage system powered by our  software helps employees in their jobs and enables them to communicate faster by giving them access to a richer variery of information.
To learn more about the usefulness of digital boards in a corporate environment, download our complimentary whitepaper.