In the ''Generous Store'' of Anthon Berg in Copenhagen, chocolates cost nothing but good deeds, because, as the brand's founder put it more than 125 years ago, ''We are never too generous''.
Chocolate lovers are invited to use a tablet to commence the payment procedure- selecting the friend on Facebook that will benefit from their nice deed,  announcing their good intentions 'publicly' and then doing the good deed as promised (& posting a photo as a proof).
This is a great example  of a smart campaign and a smart use of technology meant to boost the brand's popularity, generate social media buzz and encourage customers & non-customers to try the products. Even though it's not exactly digital signage, the project points out at how important in-store screens are for delivering the right message at the right time. The impact of reaching your target market at the right time & place using technology is reflected in the campaign's results presented below:
– more than 100, 000 people saw the pop up store in the first 5 hours since its opening and the campaign received more than 150, 000 Facebook feeds in 24 hours (Branding Magazine).
Watch this video and be reminded how technology can be used to support inspiring advertising campaigns and help spread excitement beyond the store's walls.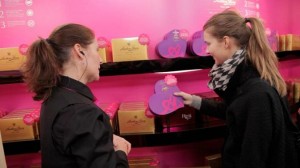 Photo source: Doc News
The Anthon Berg's price for a box of chocolate