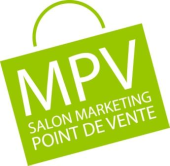 During three days, the beautiful Paris will become the place to be for retailers, design agencies, merchandisers (see Brioretail who are doing a fantastic job for big brand names) and all those with an interest in enhancing the usefulness and attractiveness of retailers' Points of Sale.
As professional merchandisers use their creativity to transform stores into engaging and dynamic locations that build brand credibility and boost sales, the MPV aims to bring their most original ideas under the same roof and reward them accordingly at the POPAI Awards Paris.
Attendees interested in digital signage will be able to quench their digital curiosity visiting an area entirely dedicated to Digital Marketing solutions in-store that will include displays, content, interactive solutions and consultancy on the subject.
Organised by Reed Expositions on behalf of POPAI France, the event takes place once every two years, gathering agencies, advertisers, suppliers and manufacturers interested in making customers ''click'' at the POS. The Marketing Point de Vente will take place at the Porte de Versailles exhibition centre from the 27th to the 29th of March.
More information is available on www.mpv-paris.com.
To subscribe to our blog please click here.
Pictures from past editions of MPV.