Kinetic and Joule's newest research on outdoor mobile technology usage reveals the strong connection between out-of-home advertising and mobile content. According to their findings, 38% of mobile app users  have looked for a brand or an application online after seeing it advertised outdoors, 15% of respondents indicated that they have been prompted by Out of Home media to search for a brand on a mobile browser and 17% of them have been prompted to look for a branded application.
Smartphone apps have become a largely adopted form of outdoor entertainment, the study shows, 43% of the consumers admitting they spend 1 to 3 hours surfing the web or or using an app via their mobiles. The results support the hypothesis that the combination of the two mediums (outdoor media and the mobile) enhances advertising's impact.
According to Richard Metcalf, Business Development Executive at Kinetic Worldwide, the study's results confirm the fact that "Out of Home formats can be utilised as effective touchpoints for mobile interactivity".  He continues  "We expect the integration of Out of Home media and digital marketing to be one of the key trends over the next decade".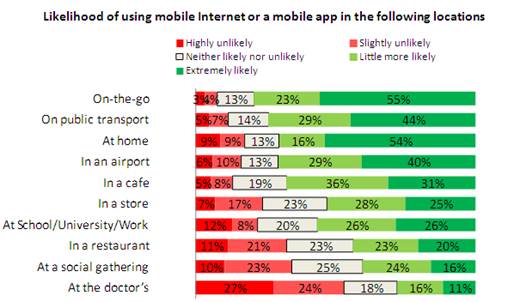 Kinetic Worldwide is an Out-Of-Home media agency that delivers market insights and analysis on consumers' lifestyle and the environments they interact with to help brands connect and engage with their audiences.
Joule is a full-service international mobile marketing agency that provides its clients (among which worldwide renowned brands) with a full range of mobile marketing services.
About Kinetic Worldwide's rolling UK Panel Study
Kinetic conducts regular online panel surveys to gauge how seasonal and one-off events will affect Britain on the move, in turn advising advertisers how this highly active audience can best be reached. The study covers more than 500 adults across the UK who are contacted on a quarterly basis.