We are constantly improving our SaaS product and are glad to announce its latest version digitalsignage.NET version 1.6. digitalsignage.NET is enriched with more features meant to make it more powerful yet increasingly user- friendly. The preview window has been further increased since our August release, fonts & editing features have been improved and Youtube videos were made easier to embed.
Other features include:
– digitalsignage.NET player downloading improvements, meaning more reliable file downloads for intermittent/slow internet connections.
– digitalsignage.NET persists playlist and content. If your Internet connection fails, the player will carry on playing the content and schedules sent beforehand.
The full list of items of this software version can be consulted on our Forums.
Feedback is at the heart of what we do and we keep in constant contact with end-users and resellers for understanding usage patterns, needs and requirements that help us make our product better.
30 day- free trials are available from here and come with free email support and product- related resources.
"How To" videos will be found on our website soon, as part of our effort to ensure that users are offered a thorough support.
We have recently put together two comprehensive user guides that walk you through all the steps needed to set up your digitalsignage.NET account and add a device to the scheduling software (they will be emailed to users).
And if you're still wondering (or you know someone still wondering) what can digital signage actually do for you, have a look at our video (or pass the link on).
Screenshots of digitalsignage.NET v.1.6: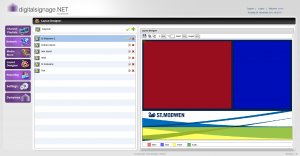 Manage your displays in three steps: Add content, Schedule and Publish. Minimum Internet-operating skills required.