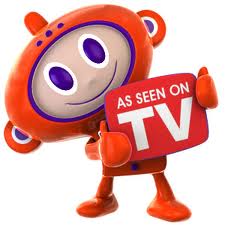 PepsiCo's Global Head of Digital, Shiv Singh wrote a very interesting article on the future of TV advertising highlighting its digital & social media destiny. The points Singh makes could stand valid for digital signage ads and communications in general:
1. Marketers are discovering that "the world doesn't start or end with just a 30 seconds ad". That is just a piece of the puzzle of channels consumers can be reached through. Or as he says the TV ad will become a teaser for the more complete digital experience that will follow. In some ways, this could be applied to messages delivered via indoor or outdoor digital signs. Your communications shouldn't start or end with the screen. And unless your effort is part of a bigger strategy it might not boost neither the sales nor the brand sentiment.
2. "Location- based digital experiences will be the new driver of television advertising". During its summer campaign, Pepsi prompted its viewers to check in at beaches and amusements parks using FourSquare to get the Pepsi Summer Time Badge. As reported, this Badge became the most popular badge ever on FourSquare. It worked and it was mainly because of the tight TV, mobile and web integration. So what do you say about location- based technologies driving your digital signage communications? It's as easy as reminding people via a screen to check in your locations to receive a discount, enter a prize draw or enjoy a benefit*. This will also allow you to track your audience's response rate and the efficiency of your digital signage installation. You can also add Twitter feeds at the bottom of your screen to promote your social media presence.
3. "E" stands for Engagement and it will heavily influence media- planning decisions. A main advantage of place- based media (delivered by digital signage) is enabling communicators to engage with their audience at a more personal level (unmatched by TV ads). Thus, messages tailored to a specific audience from a specific location open the door to engagement, as you will resonate with the people you are addressing. Missing the "E" from your digital signage strategy greatly decreases (or even nullifies) its impact.
4. Real-time (digital) participation- the new imperative for marketers. Forget about ads or messages that don't expect people to act now. We all know that postponing often means not doing things at all. "Download now, scan a QR code (displayed on the screen) now, call this number (shown on the screen) now, visit website now" are your CTAs with the highest potential. Make use of them.
5. "Reflecting digital culture through television will become a priority for brands" In digital signage terms, that would be "Reflecting culture through your screens should become a priority". In other words, "talk" about what interests your audience and make it relevant to their location (in your store/ office/ waiting room/college/library).   Is your audience a multicultural one? Adjust your message accordingly. Know your demographics and "speak their language". In the end, digital signage is all about delivering the right message, to the right time, at the right place to connect to your audience.
Read our case-studies and discover our clients' original ideas of using digital signage.
Or download our whitepaper to learn more about the system.

You can request a 30 day free trial of digitalsignage.NET from here.