They talk about it in France and especially in French marketing publications that note the new project of the French Ministry of Culture and Communication, taken to the streets by JCDecaux. The initiative is aimed at enticing the public to explore the music created by young French artists by making their songs widely available.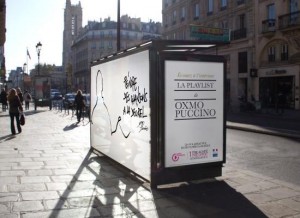 This is not just a regular bus shelter on a street in Paris but one that is offering a selection of more than 100 songs to each passer-by  in mood for music while waiting for his/her bus. All they have to do is plug their headphones in and select the song of choice via embeded touch-keys. Another element that makes this street furniture stand out is its design and colouring that replicate the universe & style of each of the five featured singers.
Oxmo Puccino, for example, is the featured artist of this bus shelter.
The French Ministry launched its "music map" (la carte musique)- on several other channels: TV, social media and on a website dedicated to the theme of discovering music.
DOCNews.fr enumerates the locations where such bus shelters can be found in Paris, among which 66 avenues des Champs Elysée, and 110 rue de Rivoli (one of the most prominent commercial streets in the French capital, near the Louvre museum).
The French Ministry of Culture and Communication was accompanied in this endeavour by global agency network- Euro RSCG C&O and marketing agency "The Hours".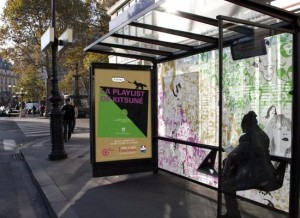 Bus shelter by JCDecaux
Photo source: DOCNews