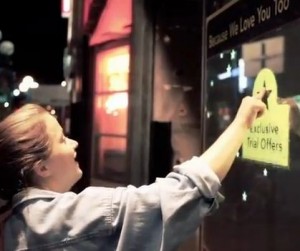 For launching its loyalty programme and rewarding its clients, Starbucks have  installed 4 interactive window displays in Toronto and Vancouver in 2011. To discover their present, the players/ customers have to "catch" the golden stars twinkling among the white ones.
The caffeinated crowds are thus given yet another reason "to do business" with the coffee chain that is already offering appealing free Wifi spots.  The screens give passers-by an amusing experience meant to attract them to the  points-of-sale.
Please watch the video here; for some reasons the link doesn't seem to work when embedded.
This is not the first project of this type. In February, Starbucks enticed passers-by to create their favourite Tazo teas right on the outdoor screens of its shop windows and collect their "creation" indoors. With the help of a vinyl screen, a projector and gesture control technology, Starbucks "geekified" its advertising at the POS. The touch- screens allowed curious pedestrians to guide a hummingbird or a butterfly to find and assemble their tea's ingredients.
This execution, as Mashable notes, shows that "advertising innovations are not happening just online, but increasingly in areas that once used house stagnant signage".
Enjoy the video!
http://vimeo.com/19258352