… great things happen. Staff and customers are well informed, visitors are greeted, children are entertained and important medical information reaches its target audience.
For a global pharmaceutical company, keeping its employees up-to-date with changes in their corporate environment was a real challenge. So they've started looking  for a staff and visitor information system to improve corporate communications; delivering company and external information quickly and effectively around their company. Our digital signage software was recommended to them by AuDeo, our partner and reseller, with the following result:
The digital signage solution installed by AuDeo incorporates the following components:
14 x Digital Signage Players loaded with signage player software
Media player loaded with Preview software and positioned on the network allowing content to be displayed on the screens
14 LCD screens (46", 42", 37") displayed in a number of different rooms
Each of the screens is connected to a digital signage player containing our digital signage software.  The players are linked to the client's dedicated network and a centralized. It is used to create, schedule and manage the digital signage solution and all the screens.
As part of the complete solution, both companied worked together for providing the client with training courses and continue to monitor the digital signage system in the event that any problems should occur.
Primary objectives met by this digital signage solution:
Easily managed staff & visitor communication system
Highly scalable solution; additional displays can be added seamlessly
Simple page layouts
Centralised content control
Content uploading via network
Ability to present different information on the same screen
Ability to display web pages
Ability to display video content
New state of the art community pharmacy uses digital signage to reinforce its image and entertain its younger customers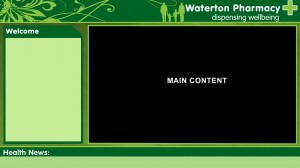 If large organisations benefit from digital signage, the system is no less useful for smaller ones. This particular success story in collaboration with AuDeo  features a brand new state of the art community pharmacy.  The client wanted a visitor and customer communication system to match their ethos of being an exemplar provider of pharmaceutical services.
They required a screen in the pharmacy's main area to show medical information and advice, pharmacy and medical centre messages and seasonal information and another screen in the children's section  to show children's TV programs.
AuDeo did the installation work and selected our software for its ability to support all the types of content they wanted to present.
The solution:
19" Display
32" Display
PC for Digital Signage software
Digital Signage Software Licenses
A 19" screen was installed in the children's area and a 32" display in the pharmacies main area, both controlled by our software. As it proved necessary, AuDeo also assisted with the initial content creation and template design and then trained the users to update and create further content themselves.
The benefits:
The pharmacy has seen the following benefits since deploying their new digital signage system:
High impact
Increased dissemination of medical information
Increased uptake on offers
A higher volume of enquiries about local medical services.
Both companies are proud to present these successful digital signage projects that enabled the pharmaceutical organisations adopting them to enhance their communications and customer experience.
Sign up now for a 30 day free trial of our software digitalsignage.NET