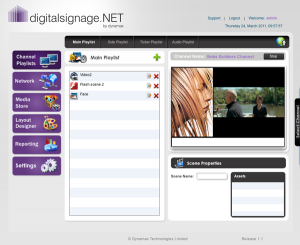 We are pleased to announce the release of  digitalsignage.NET version 1.4– our digital signage software designed for small and medium enterprises. The latest version includes new features  and fixes the documented bugs. This version, just like the previous one, is based on Amazon's cloud solution EC2.
The cloud- based feature of digitalsignage.NET means that the user doesn't have to worry about storage, band-width, backing up of data or server management (involving highly skilled IT staff).
We've increased our capability in interactivity by providing our users with the possibility to share Twitter updates with their audience (by adding Twitter feeds within the system). Other RSS feeds are supported as well.
The newest update of our software is meant to make the scheduling and display of information easier for everybody (user and their organization). Some of the new features that contribute to this are as follows:
Change aspect ratio scaling to better support SMIL;
Premium Player Widgets now support background transparency;
Scene tagging now works with SMIL devices;
Migrating between a player account and group account (and vice versa) is now easier;
Playlist preview panes are now colour coded for ease of use;
Public scenes always log playback, so that the author can see where they have played;
Layouts now have a Z order with 'Bring to front' & 'Send to back' support.
Comment and suggestions welcomed. Enjoy!