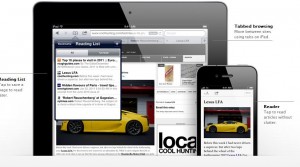 Apple's new operating system( iOS 5) has been released on the 6th of June, proving the rumors about its postponing until autumn wrong.  There was a question risen on Twitter this week about how could it impact  the digital signage industry. We've already addressed the topic of whether the new iPad would pose a serios threat to digital signboards and our conclusion was that it wouldn't. As we don't think Apple products would be largely adopted as digital signage hardware we don't foresee the iOS 5 affecting this sector in an important manner.
Apple products are unlikely to be used by the main DOOH actors such as outdoor advertising agencies simply because they are not fit for the purpose.  Imagine an airport. No matter how sophisticated the operating system is,  a consumer hardware would not last too long if used intensively and sometimes in difficult environmental conditions. And  that's a normal state of things as Apple devices weren't designed for this. On the other hand there are players and displays screens out there specifically produced and tested to resist in tough conditions.
The Apple products (Mac Mini,  iPads or LED Cinema Displays) could be used here and there in retail environments and by small and medium enterprises. But even their adoption is  debatable since they would be quite expensive to use for digital signage purposes only (display and scheduling of content). We also don't see Apple making serious efforts of entering the DS market, as its products do great on the consumer one. So why would they change a strategy that, at the present, is working so well?
How will the new iOS 5 affect digital signage? Arguably, it won't affect it too much if at all, as it's just a host for your platform. And with the raise of Adobe Air enabling a digital signage software to be OS- agnostic, the topic wouldn't matter all that much.