We were thrilled to join yet another interesting (and useful) business event taking place in the green and peaceful area of Lancashire and re-connect with the growing small business community of our region. These events are offering us the chance to stay tuned to the needs and expectations of SMBs so that we can provide them with a digital signage product suitable to them.
It's always good to meet old friends, make new ones and enjoy a good speech! The event was hosted by The Business Network, an organization that brings together decision- makers of small and medium enterprises in the relaxed athmosphere of a lunch break.
It 's worth noting that  all present companies could have found digital signage useful simply because it serves a basic need of any enterprise no matter its size or industry- the need to communicate. Accounting companies, healthcare  and nutrituon businesses, the Chamber of Commerce, debt relief agencies they all have a message other people would be interested in (be it employees or clients)  that the "screen on the wall" and the software behind it could help them deliver. We were lucky enough to be in a room that had several LCDs installed to display information which allowed us to better explain other participants what digital signage is (quite a mystifying term to those outside the industry).
Here are some photos we'd like to share with you.  If you're from Lancashire, we'd love to meet you during the next busines event, if you're not from around here we'd love to hear from you anyway!
We found ourselves near the Blackburn Rovers stadium, quite a neat one we could say.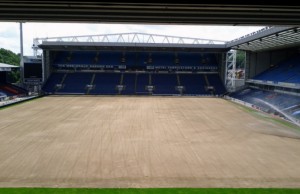 Business over lunch in Blackburn, Lancashire.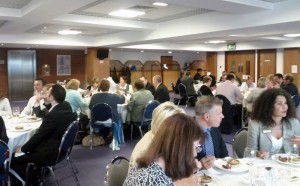 Howard, our Director (first on the left).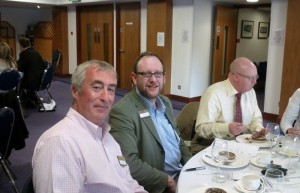 Thanks for reading and enjoy the week!