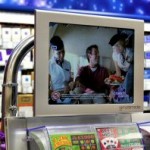 Purchases once reserved to the high-end of the market are becoming more and more democratised and more affordable. The most recent example I came across is Snaptu– a website offering free apps (Twitter, Facebook) for basic mobile phones (out of the smart phones range) which became quite popular (well, if 115 really positive reviews from all over the world supports this statement) as it provided an answer to a real frustration (not having a smart phone and the browsing facilities that come with it).
According to the newest research conducted by LG Electronics, convenience stores are the most fervent buyers of screens for advertising purposes (36,792 out of 71,092 sold) surpassing the supermarkets by far (1,100 purchased screens). Hence, what was once a retail marketing technique reserved to big brands only is now becoming common practice for small, unknown shops. The POPAI UK&Ireland 2011 survey results further support the democratisation of digital signage, with the number of shops adopting the system quadrupling over the last 4 years and expected to rise to 58,000 until the end of this year.
A Mintel article on c-stores in the UK finds that there are still people out there who never tried them because of their low-cost image and suggests that c-stores should invest more in positioning themselves as "good quality shops". While screens are primarily used for National Lottery ads displayed on 10" signboards, c-stores' owners should be educated about the differentiation potential of a digital signage network (customer engagement) as well as about the financial ones (advertise own products with no fees, sell screen space etc.). An improvement has been noted though with 40% of respondents updating screen content daily and more than half doing it over the internet (to read the entire article click here).
Interacting with visual media through screens has become a second nature to many thus offering an entertaining in-store experience is a necessity and not a bonus says LG sales director, Warren Lewis.