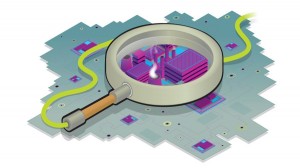 In very broad terms, a System On Chip is a microchip that has all the components on board required to power a standard computer
Conventional processors are main engines that power our desktop PC`s and digital signage media players. These processors work with separate secondary processors for graphics etc providing you with a device that drives the content to your digital signage display installations. A traditional motherboard has different components that are housed in separate chips and boards. So there's a CPU, there's a graphics processor, there's memory, and so on. A System on a Chip has all these components on a single chip, and is hardly any bigger than the traditional CPU.
Not all SOC have a low processing power either, a concern for some. Today there are many powerful multi-core processor available that give you the horsepower you will need.
The ability to combine all these processing elements together on one chip has allowed computer manufactures to produce small form factor devices that can be used in various applications. Examples like the SOC systems that can be slotted into the side of compatible displays making an all in one digital signage solution, to hobby kits like the Raspberry Pi for self builders alike.
The SOC systems are also more energy efficient that conventional CPU`s. So running a network of device with SOC installed is also greener to the environment and better for your pocket.  Intel processors estimate a 34% power saving over conventional CPU`s. this could be a large saving for users with large networks to run.
System on chip example are all around us today. in fact, most of the popular Android tablets and phones are powered by Nvidia Tegra and Qualcom Snapdragon and ARM SoCs.  The  A6 and A7 processor versions from Apple are used in the ipad and iphone 5s . Smart TV`s, digital still and video cameras, set top boxes from manufacturer Samsung  use the  ARM Core powered Cortex A15 offering high performance, thermal stability and reliability. Intel`s own version, the Atom E6xxx series has been adapted from x86 Atom processors currently in use in many PC`s and tablets to produce a SOC versions used in latest devices, from manufacturers Dell, Lenovo and Asus.
SOC offers performance, space saving and energy efficiency, which has to be good news for the digital signage industry looking to deploy smart cost effective solutions for their customers
Research material from Intel.com and Techradar