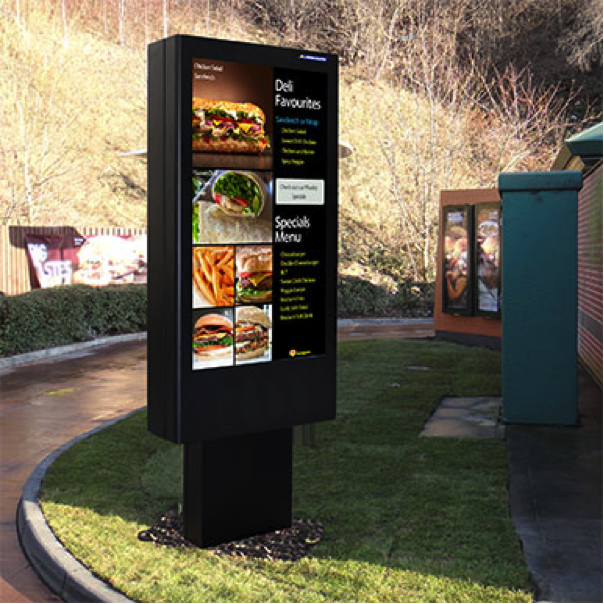 Is your quick service restaurant making the most of its drive thru? Did you know? Your restaurant could enjoy a potential 3-5% sales uplift by installing drive thru digital menu boards… How do you tap into that sales uplift? Armagard explains…
Let's begin with an interesting statistic. 27.3% of US quick service restaurants with a drive thru facility, and already using indoor digital menu boards, have not expanded their digital menu network to include the drive thru – that's according to a 2012 QSR infographic from JCO Products.
This means, 72.7% of drive thru restaurants across the US are missing out on a potential 3-5% sales boost. If this is happening in the drive thru capital of the world, imagine the number of restaurants across Europe – and indeed worldwide – that are also passing up the opportunity to improve their bottom-line. Your quick service restaurant could be, too.
What makes these figures surprising is that most major quick service restaurant chains are generating 60-70% of their takings at the drive thru window – that's according to research published by electronics giant, Panasonic. Yet, despite the drive thru accounting for a significant amount of their revenue, they're failing to respond to customer feedback.
How to tap into the potential sales uplift
Put aside your 'what will drive thru digital menu boards do for my restaurant?' mentality for the time being. The first step to tapping into that potential 3-5% sales boost is to focus on 'what will drive thru digital menu boards do for my customers?' This is key.
Fortunately, QSR customers are giving you clues as to what they expect from drive thru digital menu boards. Infographics published by Panasonic and Specialised Productions reveal that 74% of QSR customers put an easy to read menu at the top of their priority list.
Already, an outdoor digital menu can do more for your customers than any static menu. They're crisper, clearer and can be made less cluttered as you will have the capability to rotate content at timed intervals. Essentially, you're improving the customer experience.
Improve the customer experience and you improve your appeal. Now, watch as the volume of cars in your drive thru lane, on a daily basis, begins to grow.
You've hooked them, they're in the drive thru lane, and they can't go anywhere. The key is in the lock to open the door to boosting your drive thru sales by 3-5%. Now, content becomes the most crucial component of your drive thru digital menu board.
Get it right and digitalized menus have the power to increase customer consumption and influence word-of-mouth marketing, customers say so themselves…
…Did you know?
90% of customer buying decisions are influenced by visual factors
75% of consumers have told someone about a business after responding to digital signage
Over two-thirds of people agree that the signage of a business directly reflects the quality of that business and their products
Based on this evidence, upselling and pushing high-ticket menu items will unlock your potential 3-5% sales uplift. How? According to Panasonic's infographic – at the time of their research – that month, 80% of adults had viewed digital signage, and here's the clincher, 70% went on to make a spontaneous purchase.
If 70% of people are making an unplanned purchase based on viewing digital signage, upselling using drive thru digital menu boards is the catalyst to your sales uplift. Give priority to new menu items, best-sellers and specials, then you've got a recipe for further drive thru success.
Historically, the average fast food customer goes to their favourite restaurant and orders what they know they like. However, by promoting new menu items at the drive thru you can alter that decision, encouraging customers to try new things.
They didn't plan to buy it, but it looks so enticing on a digital display, they buy in addition to their standard order, result! Now you can think about what digitalized drive thru menus will do for your restaurant:
Most importantly, they improve the customer experience.
They encourage customers to spend more.
Customers share their experience with friends and family.
As well as repeat business, new customers come.
Your profit margin increases, representing an excellent ROI.
The cycle starts again.
Improving profits without selling more
The potential is there to boost sales with drive thru digital menu boards. However, we can appreciate it from your perspective. It's not an exact science, there's no guarantee and the risk is all on you because if it all goes wrong, your job could be on the line. In an ideal world, you'd boost sales by 3-5% the second you turn on a drive thru digital menu.
Yet, all is not lost if drive thru digital menu boards only result in a 1% or 2% increase or worse still, zilch. If all else fails, digital signage will reduce your overheads significantly. Right now, if you're restaurant is using static menus, you understand the costs associated with maintaining them. Wouldn't it be great to cut those costs?
After all, they come with a high price tag, mainly because you'll constantly find yourself having to change them, and if that's across more than one restaurant, those costs are higher.
You might rely on an operator to change them, which incurs a call out cost or it might be staff that have to change them, which could involve training and time spent away from serving customers.
However, introduce drive thru digital menu boards and you'll cut labour costs and rid the drive thru lane of static menu boards, preventing unnecessary printing costs. Saving on those costs will improve your bottom-line and ultimately your profits.
In the end, whether you succeed in reducing overheads or tapping into a potential 3-5% sales boost, your restaurant is financially better off in the long-term in any case.
Discuss drive thru digital menu board options with us
Discover Armagard's outdoor digital signage solutions for drive thru facilities.
To discuss your restaurant's requirements, complete the onscreen 'quick enquiry' form. We'll arrange a time to contact you at your convenience.
Alternatively, call us direct on +44 (0) 121 608 7226.
Drive your Menu boards with simple to use digitalsignage.NET software from Dynamax