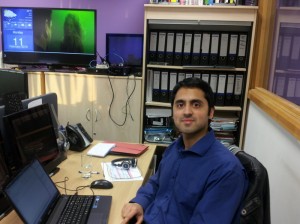 We're thrilled to welcome Ghani Mohammed in our midst who starting with the 11th of February is our new Digital Screen Media Support Engineer.  You may remember that we've advertised this position back in December so if you haven't applied you've missed a great chance of joining one of the friendliest teams you have ever worked with.
But more about Ghani- he is the person you are likely to talk to if you require support with our digital signage software, either POV or digitalsignage.NET. Before joining Dynamax, Ghani has acquired a solid software support experience at our sister company, Promethean where he worked as a Technical Support Analyst for 6 years. In this role, Ghani was in charge of troubleshooting software- related issues encountered by school teachers and other customers across Europe, Middle East and Africa.
(For those not familiar with Promethean, the company is a leading manufacturer of interactive whiteboards and tables for sectors such as Education, Business and Government. With headquarters in the UK, the company has offices all around the world, in countries such as France, China or Bahrain.)
Ghani holds a Bachelor degree in Computing from the University of Wolverhampton and is now undergoing intensive training led by our colleagues, Andrew and Brian on our digital signage software solutions.
Ghani shared a few thoughts with us ''I'm excited to join Dynamax in the pursuit of delivering excellent customer service and  versatile digital signage software solutions.  The team is very friendly indeed and the work atmosphere is fantastic for brainstorming and innovation. I look forward to becoming a specialist in digitalsignage.NET and POV and to learn more about the very interesting digital signage industry. I was told that I might feature in one of Dynamax's interviews soon so keep an eye on this blog to get to know the staff behind Dynamax.''
To keep up to date with our corporate news, please follow Dynamax's page on LinkedIn.