Wanting to highlight its new fuel- cell vehicle, the well-known German brand did so by trying to make it as "invisible" to the public as it is to the environment.
The mirror effect was created by covering the car with tiny LED's and installing a camera on the other side of the vehicle that films its surroundings and then displays them on the screens.
This idea too was inspired by a movie- namely the James Bond one ''Die Another Day'' in which 007 is given an 'invisible' car of this type. In this case though, only one side of the Mercedes car is LED covered, leaving the other side visible to passers-by.  Hoping that most of Germany will get the idea about the new vehicle's zero emissions feature, the ''billboard car'' was taken across the country stirring the surprise and curiosity of its viewers.
Maybe in the future, digital signage will be nothing of what it is now or of what we imagine, as this futuristic project leads us to believe.
Watch the video below.
http://www.youtube.com/watch?v=ZIGzpi9lCck
An innovative advertising campaign for an innovative technology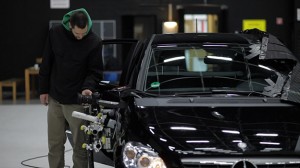 Photo source- fullinsight.com
An interesting way of using AV technology to promote a new car.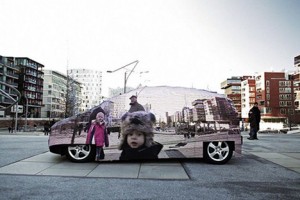 Photo source: woads.blogspot.co.uk
Any thoughts on the 'invisible' Mercedes campaign? Share them with us below.